Jessi C'Artoon: 'Girl in a mask' draws out school fears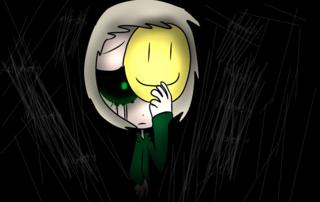 Jessi Crowther has autism and has for years drawn cartoons to express her hidden feelings. Following her recent move from primary to secondary education, she shared her drawings in the hope it would help other children.
Eleven-year-old Jessi wears a mask to school. Her friends and teachers may not know it - but the smiling face is the mask she wears to hide her inner feelings of stress and anxiety.
Starting secondary school can be stressful for many 11-year-olds - but for children with autism, like Jessi, the move is not always the "first day full of smiles" image many parents share on social media at the beginning of term.
For Jessi, who lives in Plymouth and goes by the pen-name Jessi C'Artoon, the nerves started to build in the weeks leading up to the big day.
"The Mask was about how scared I felt about moving from primary to secondary school," she said. "I decided not to hide my feelings anymore. My dad actually cried when he saw it because he said it really spoke to him.
"When I posted The Mask on my Facebook page, my friend's mum commented saying their other daughter broke down and said 'This is exactly what I have been trying to tell you guys' and I felt really proud when I heard that. I think it helped them talk about it.
"I think lots of people who are sad or upset have a mask to show they are fine, but inside their heads they have a war going on between the positive and negative feelings and it muddles your brain a bit."
Jessi draws on paper and also uses a tablet to create her cartoons, one of which is called "People are far out of reach".
It describes how, when she meets children she doesn't know, she feels she is "far away in a corner and very small, while all the other children seem to be far away and very big".
"I didn't want to go to my new school and felt very nervous because lots of things were going to happen and lots of children would be there who I wouldn't know," she added.
"I didn't feel up to dealing with new children and the motivation in me went down.
"But it's not good to keep your emotions to yourself and not tell anyone. Instead of words I decided to make the picture."
She is keen to stress her drawings are not all negative.
"I want my pictures to help people. I am a rescuer. Making things like drawings, music or poetry is sometimes easier and better than talking about it and it makes me feel really good that people use my drawings to share their emotions.
"You could probably express yourself in your own ways. If you can't draw very well you could use different techniques such as sign language or music.
"Sometimes I see people drawing and I look at their drawings and understand how they are feeling because I sometimes feel like that as well."
"Doing this makes me improve as a person. When somebody says that they really like my hard work, that makes me realise what I am doing is making people happy and making them come out.
"We all do it sometimes, smile on the outside when we don't feel like it on the inside. We ask people if they are OK because they look a bit tired or sad, and they say 'I'm fine' but on the inside they aren't really. They put a mask on to make them feel that no one can see how sad they are. It's OK to feel sad sometimes but you shouldn't have to hide it all the time."
So how is school, two weeks in?
"I am really happy. I'm still getting a little bit lost because it's much bigger and I need to know where all the classes are, but I am starting to know my way around a bit more, which makes it easier, and people are starting to recognise each other more.
"Big smiles!"