Johnny Kingdom's funeral held in Devon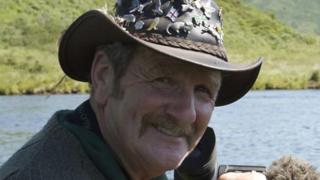 Hundreds of people have gathered to pay tribute to wildlife "legend" television presenter Johnny Kingdom, who died in a "tragic" accident.
The 79-year-old film-maker and author was killed by a digger on his farm north Devon, on 6 September.
Police said they were called to reports the vehicle had rolled over in a field at Knowstone. He died at the scene.
His funeral took place at Bishops Nympton on Sunday afternoon.
Mr Kingdom created a wildlife habitat on his 52-acre patch of land on the edge of Exmoor and in 2006 his first series on BBC 2, A Year On Exmoor, was watched by more than three million people.
Producer David Parker, who worked with him for fifteen years, said his death had come as a big shock
"Johnny was sort of an indestructible character... He was solid as a rock really... It is a real tragedy," he said.
"His field-craft skills were really second to none... When it got to sitting there waiting for that wildlife he had so much patience, he could sit there for days."
In a statement after his death, his family said that "a legend had been lost."
Mr Parker said the BBC's upcoming series of Autumnwatch will run an on-air tribute to Mr Kingdom along with a series of programmes on BBC Four from Monday evening.