Hunt for goat-antelope after Paignton Zoo escape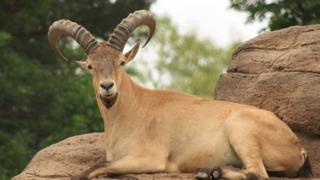 A goat-antelope described as a "danger to the public" has escaped from a zoo.
Specialists and police officers are searching for the female mountain-dwelling West Caucasian tur, which broke free from Paignton Zoo earlier.
It is thought to be in Clennan Woods at Goodrington, which backs on to the zoo, after it was spooked when keepers were moving the herd into their enclosure.
The zoo said the animal is "probably pretty stressed" and people are being urged to call police if it is spotted.
The animal, which is listed as an endangered species, cleared a fence, left the quarry area and went into the dense woodland.
A spokesperson for Devon and Cornwall Police said: "As you can see, it is a horned beast and could be a danger to the public if startled.
"If you see the tur, please make no efforts to corner it and call the police immediately."
Paignton Zoo spokesman, Phil Knowling said: "Our main concern now is that the animal is safe and well, that we locate her and get her back into familiar territory with the rest of the herd.
"She is probably pretty stressed. We are hoping that a police drone with thermal imaging technology can help."