Plymouth girl's baking helps beat brain damage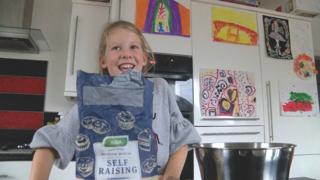 A nine-year-old who suffered a stroke as a toddler is being given a helping hand through her love of baking.
Beth Horton, from Plymouth, became ill at the age of two, leaving her with limited movement in her right hand and foot.
But baking has helped bring back the use of her hand as well as helping with her memory and maths.
Her mother Maria said: "Trying to make her do boring exercises just wasn't working."
Mrs Horton said: "I love baking myself, as did my auntie, so it's something that's always been there.
"Beth just got on board with it and it's just spiralled from there.
"You suddenly realise as you're doing it, the benefits of it. She found new ways of using her hands for things like cracking the eggs."
Amy Spencer, of the Stroke Association, said Beth was a "real inspiration" to others.
She said: "Her determination and courage to continue to do things she loves is wonderful.
"It is possible for problems with movement and balance to get better after a stroke.
"Whilst recovery can slow down, many people like Beth carry on making improvements and become fitter and stronger by adapting to everyday tasks in their own way."
Strokes in children
A stroke happens when the blood supply to part of the brain is cut off.
Childhood stroke affects around five out of every 100,000 children a year in the UK.
Children may experience weakness or paralysis on one side of the body, facial drooping, speech problems and headaches.
Strokes in children are associated with existing conditions, most commonly congenital heart disease and sickle cell disease (SCD).
Source: Stroke Association
Beth is taking part in the Stroke Association's Give a Hand and Bake Week, from 22 to 28 October, when money will be raised for the charity through bake sales across the UK.