Flooding leaves 6ft hole in Teignmouth railway track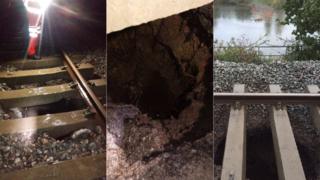 Flood damage has caused a huge hole to open up in a railway track, causing disruption for passengers.
The pit, which is 6ft (1.8m) deep and 6.5ft (2m) wide, appeared under the tracks after high tides engulfed the line at Teignmouth in Devon.
It is expected to remain closed for the rest of the day while emergency repairs are carried out.
Replacement buses are running between Exeter and Newton Abbot. Travellers should check National Rail Enquiries.
A Network Rail spokesman said: "Repairs could take at least all day. We could not get on site until 10:00 BST because of the high tide.
"Our teams will be out today in horrendous conditions working flat-out to repair the damage and get trains moving again."
A section of the line was washed away at Dawlish in 2014, cutting off the service linking Cornwall and much of Devon with the rest of the UK for two months.
Commenting on the region being cut off again, Plymouth Labour and Co-Operative MP Luke Pollard said: "The south west has had enough and I have had enough.
"The lack of action by government on improving our railway is causing real damage to our economy.
"It's time for ministers to put their hands in their pocket. I want to see funding announced for proper resilience at Dawlish within the next month and a commitment to fund the rail upgrades we need announced in the Autumn Budget."
The Department for Transport said protecting the line at Dawlish was "a national priority".
"We have made £15m available to Network Rail to develop a solution," a DfT spokeswoman added.
"Essential works will begin next month to strengthen the cliffs and protect the sea wall.
"World-leading engineers have also been carrying out detailed ground investigation to understand what is happening to the cliffs and coastline in three key areas around Dawlish and Teignmouth."
You may also be interested in: