'Having my leg amputated will be like a Christmas gift'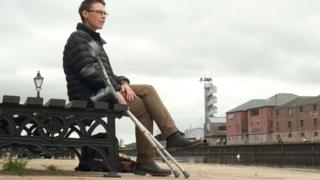 A woman having a leg amputated has said the operation "will be like my birthday and Christmas rolled into one".
Lexi Chambers, a nurse from Exeter, said she suffers "gut-wrenching pain" in her foot.
The 40-year-old has had five operations to cure pain from "hammer toes" in her left leg and has had two toes removed.
But she has remained in constant pain and her request to have her leg amputated has now been approved by an NHS surgeon.
Ms Chambers, who had run half marathons and taken part in fitness competitions, said the pain in her foot started five years ago.
"After running it would be a sharp pain with a dull ache for several hours," she said.
Two operations left her in more pain so she asked to have a toe removed.
"For a few weeks things seemed to improve a little bit," she said.
"But when I came off the painkillers things hadn't improved at all."
She had a further toe removed in April this year but the pain continued.
"It seems to be getting worse all the time, so I basically exist on morphine," she said.
"I don't get very much sleep, I'm very reliant on my crutches and I've just ordered a wheelchair.
"It's a bit of a come-down from running half marathons to be fair."
She said she came to the decision of asking to remove her leg "in the hope that will sort out the pain issue and give me my life back".
"I can't just keep removing toes and having more and more surgeries," she said.
She is now waiting for a date for the operation and has been told it could take place next month, before her birthday on 29 November.
"It will really be my birthday, Christmas and every other thing rolled into one," she said.
"A few people think I'm a complete nutcase but my response is to say to them: 'Try stubbing your foot and imagine having that pain forever, then wouldn't you go through this too?'"
The Royal Devon and Exeter NHS Trust said in a statement that "in line with our commitment to safe, high quality and compassionate care, a major surgical procedure such as amputation is offered to patients only after rigorous clinical assessment".
You may also like:
That included discussion of risks and benefits between the surgeon and patient.
"Other health professionals will also be involved in the patient's care where appropriate to ensure the best possible outcome and quality of life for the patient," it said.