Taxi passenger jailed for biting driver's ear in Devon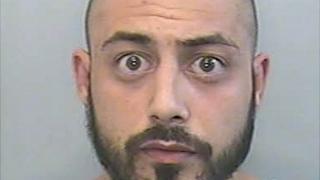 A "thuggish" man who bit off part of a taxi driver's ear has been sentenced to 20 months in prison.
Exeter Crown Court heard how Vimal Jadeja, 27, from Colchester, became aggressive during a late night trip through Paignton.
Taxi driver Russell Page got out of the car to escape, but Jadeja chased him down and punched him before biting off a piece of his left ear.
Mr Page said he is now in constant fear of further attack while working.
Jadeja, who was drunk, started an argument by complaining about the driving and became so threatening that Mr Page got out of the cab when it stopped at Torbay Road, Paignton.
Latest updates from Devon and Cornwall
A motorist who was behind the taxi saw Jadeja attack Mr Page at the rear of the vehicle, before leaning forwards and deliberately clamping his teeth on the ear.
Judge David Evans said the incident was "offending of the utmost seriousness" in the context of actual bodily harm.
"The use by you of your teeth as a weapon on another human being increased your culpability," he added.
Jadeja admitted causing actual bodily harm and was jailed for a year-and-eight-months.
He was given a further seven days for skipping bail in September.