Fire teams 'missed chance to save Royal Clarence Hotel'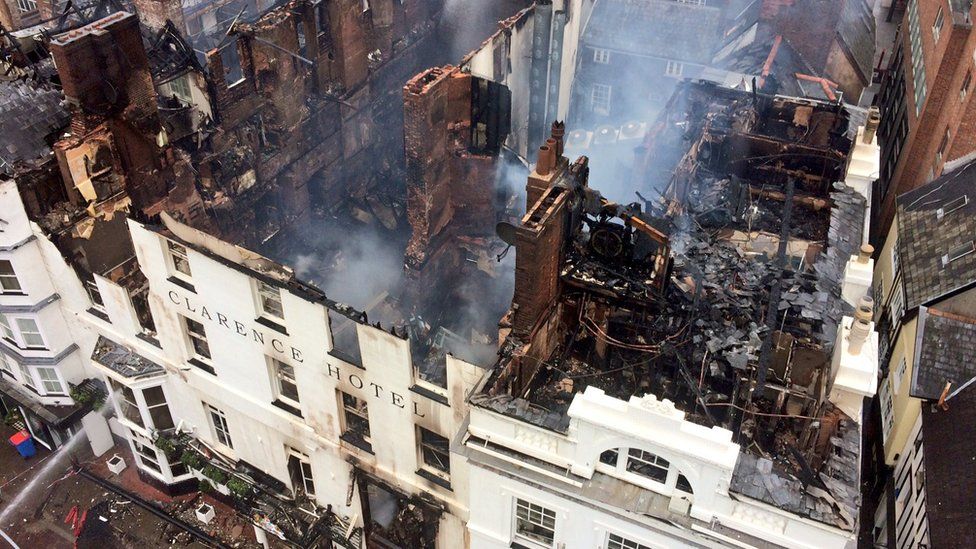 Fire commanders ignored advice that might have saved a historic hotel, a BBC investigation has found.
The Royal Clarence Hotel in Exeter, described as England's oldest hotel, was destroyed in a major fire in October 2016.
Evidence obtained by the BBC reveals fire spread was found on the third floor of the hotel and reported to overall incident commanders.
But advice to deploy crews inside was not followed.
About 90 minutes later, fire burst through the roof in the same part of the building and rapidly caused irreparable damage.
The official incident report by Devon and Somerset Fire and Rescue Service (DSFRS), which has been seen by BBC Inside Out South West, makes no mention of the evidence of a sector commander.
The report instead makes repeated references to the fire spreading "undetected" through "voids".
At about 08:00, it was thought the fire, which started in a neighbouring building, was under control and the hotel was safe.
In a statement submitted to the official review, the fire officer overseeing the Clarence said he was then asked by the overall command team to check inside.
He found two bedrooms on the third floor were on fire.
His statement said: "I returned to the command point and spoke with [senior command officers]. I had circled the area of concern on the plan and explained that the top floor was smoke logged and that I believed the fire was generally central of the two bedrooms.
"I then said in my opinion we needed to start trying to get firefighters back into the building somehow?"
He said he felt he was "not really being taken seriously, even though I was passing on relevant information".
Crews continued to damp the hotel down from the outside only until fire broke through the hotel roof at about 10:15. Firefighters were then deployed inside.
Independent fire safety expert Alan Cox described the handling of the blaze as "a total failure".
"I'm convinced there were several missed chances to stop the fire spreading. Clearly there was an opportunity to put some water jets on to the fire inside the hotel to hold it back."
Devon and Somerset Fire and Rescue Service said: "Our crews worked extremely hard in very difficult conditions during the fire to prevent it spreading further and causing more damage."
It added crews "were involved in external firefighting when the building was deemed too dangerous to enter, particularly as there was no known life risk".
You can see more on this story on BBC Inside Out on BBC One in the South West at 19:30 GMT on Monday 29 October, and afterwards on the BBC iPlayer.
Related Internet Links
The BBC is not responsible for the content of external sites.