Plymouth underground bunkers daubed with satanic graffiti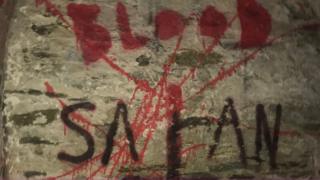 A Victorian fort which has been daubed with satanic graffiti is a serious danger to youngsters, police have said.
Fort Austin in Plymouth has a warren of underground bunkers which officers say young people have used for drug taking.
Police also said fires were being lit inside which "could lead to serious injury or worse".
Plymouth City Council, which owns the site, said it installed blockwork at the entrance to the tunnels in July to try to prevent access.
Austin Fort was built in 1863 as part of Plymouth's northern line of defences, stretching from Ernesettle in the west to Laira in the east and were linked by a military road.
Graffiti writing and symbols on the walls include references to Satanism.
PC Esther Tucker said that "continued use of these tunnels is not only causing damage to historic buildings, but it is putting those involved at risk".
She said that access to the tunnels was "difficult, meaning that exiting the tunnels in an emergency is also difficult".
One teenager, who did not want to be named, said: "You have to be quite small, it's quite a squeeze, but you can still get in.
"There's graffiti all over the walls with satanic symbols and writing.
"There's even a cage in one room where people say a dog was sacrificed."
The fort is also thought to be haunted, he said, and is a favourite for ghost hunters.
PC Mark Freshwater, who posted a video of the site on Twitter in July, said that local youths had used the tunnel to "smoke bongs" and if there was a fire they could be "death trap".
The city council said it would be visiting the site "early next week and will ensure the block-work remains in place and check there is no other means of access".