A couple and their car: A 50-year love affair
By Hayley Westcott
BBC News Online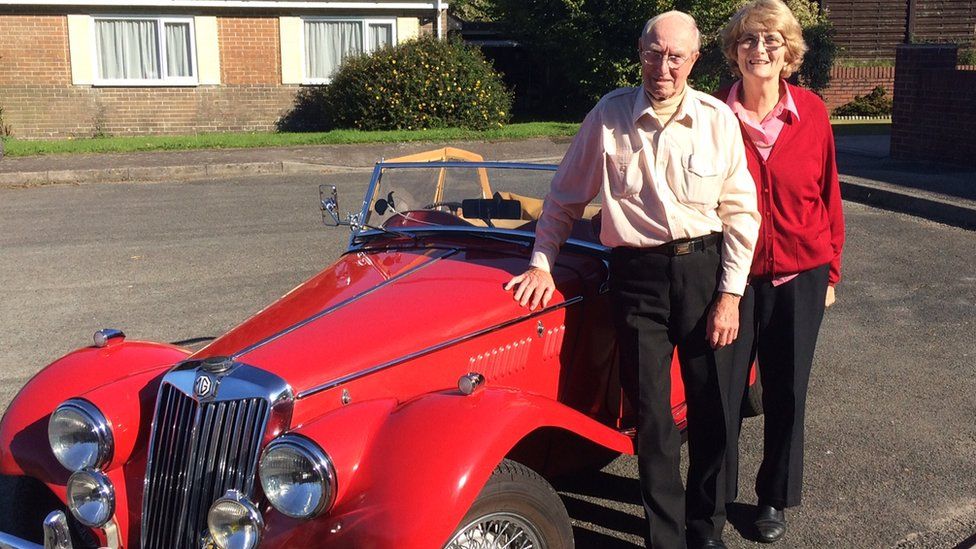 A couple celebrating their golden wedding anniversary year are also celebrating 50 years with the same car.
Tom Eaves, 80, and wife Christine, 71, from Devon, married on 22 March 1968 in Truro, Cornwall.
Half a century on, they are still driving the MG TF roadster that was a big part of their special day.
Mr Eaves bought the car when the couple started dating and it's been with them on many adventures - including their honeymoon - in the decades since then.
"If you put that car on to relatively traffic-free country roads, with the hairline steering it's got, it's absolutely super. You couldn't get anything better," Mr Eaves said.
After "doing all our courting" in what was to become their wedding car, the couple set off on honeymoon in it - a fortnight's trip from Land's End to John O'Groats.
On their golden anniversary earlier this year, the couple, from Dousland near Plymouth, went back to Land's End in the MG to mark the occasion.
The Eaveses' car was built on 13 and 14 April 1954 and delivered to a garage in Plymouth on 30 April
It was bought in 1967 by Mr Eaves for £350 (about £8,000 today)
Only 1,242 of these cars were sold on the home market
Maximum speed is 86mph (138km/h)
Tank capacity is 13 gallons (59 litres)
"He swept me off my feet then and during the following 50 years, an awful lot of ladies think I'm very lucky," said Christine.
"And I know I've been very lucky because we have had a very eventful 50 years - a lot of adventures."
The honeymoon was the first time Mrs Eaves had been out of Devon and Cornwall.
"When we got to Scotland, to our surprise, when we woke up in the morning, everything was white - it had snowed - and we're in a sports car," she said.
The couple needed to get away from the hotel quickly before their sports car got stuck, but because it was a Sunday, the staff were not awake.
"We didn't have time to wait for breakfast. So we left them a note to say here's our name and address, send us the bill and we'll pay it," Mrs Eaves said.
Fortunately, the couple had some bread and cheese in the car.
She added: "We were going down this road and I'm making cheese sandwiches for breakfast at 60mph because we just had to get away from the snow while we could!"
Fifty years on, the couple plan never to get rid of the car, although Mrs Eaves accepts a time will come when they "can't really get in and out of it".
But for now, they intend to keep on enjoying their sports car.
"It's part of our family," Mrs Eaves said.