Plymouth Satanic graffiti 'work of pranksters', says Satanist high priest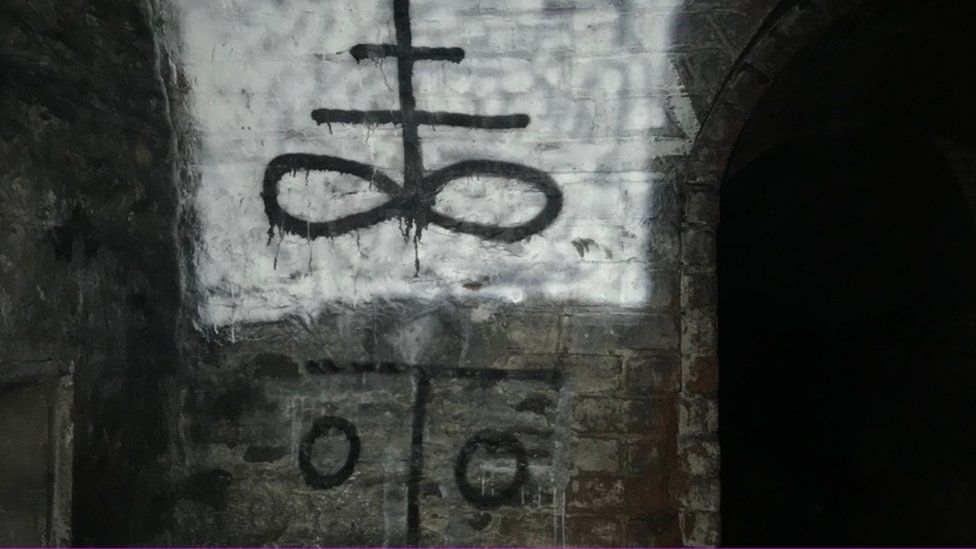 Satanic graffiti found in old bunkers is the work of "pranksters" rather than devil-worshippers, says an expert.
But he dismissed them as the work of teenagers "to upset the people who discover them" and said Satanists would have their "own home ritual spaces".
Police said the site was dangerous and the council pledged to block it up.
The symbols are part of an array of graffiti on the Victorian tunnels which were built in the 1800s as a northern line of defence for the naval port city of Plymouth.
The tunnels have been used by youngsters as a place to take drugs, police said, despite efforts by the city council to block them up.
Police also said fires were being lit inside that "could lead to serious injury or worse".
Mr Gilmore, from the United States, said the upper symbol in the top picture was seen in the Satanic Bible and represented sulphur.
He said the symbol below had "no relevance to Satanism".
"It rather looks like a stylised way of representing the letters OTO, and that was a ceremonial magic fraternity which was at one time headed by [British occultist] Aleister Crowley, Ordo Templi Orientis.
"He was not a Satanist, and said so himself in his copious literature.
"Anyone scrawling various symbols as graffiti are often just pranksters, as anyone seriously following religious beliefs wouldn't need to be smearing such images in public spaces.
"They'd be more likely to have their own home ritual spaces for practicing their sincere beliefs.
"Teens have long been known to put symbols related to bands they enjoy in public places, from stickers to spray-painted logos, often ineptly rendered."
The city council, which installed blocks to stop people entering the site in July, said it would be on site again to "ensure the block-work remains in place and check there is no other means of access".
Related Internet Links
The BBC is not responsible for the content of external sites.