Appledore Shipyard to shut putting 200 jobs at risk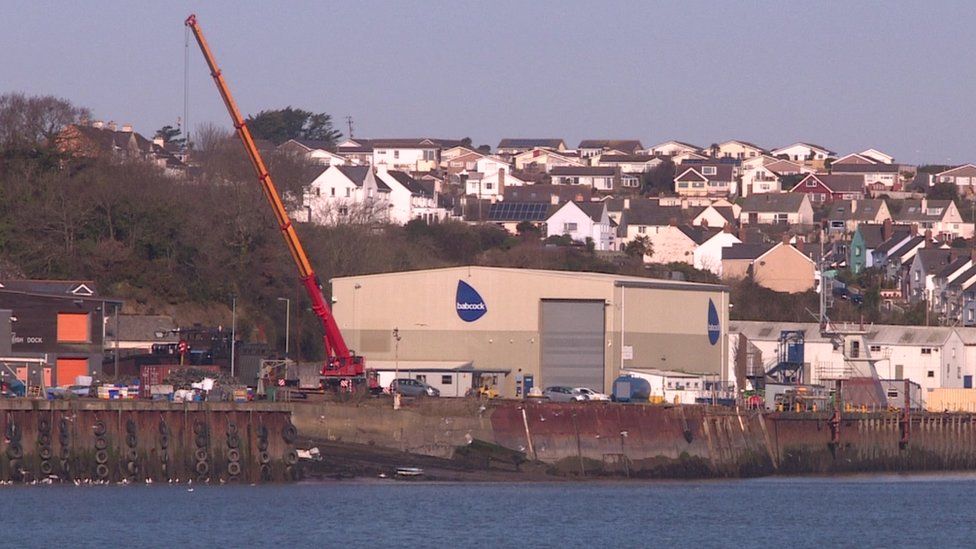 A shipyard is to shut despite its owner being offered a £60m contract by the MoD.
Staff at Appledore Shipyard in Devon have been told by owner Babcock that it will close by the end of March 2019.
The company recently lost a contract with the Armed Forces of Malta, causing financial difficulties.
Babcock said all 199 workers will be offered a move to Devonport Dockyard, also owned by the firm, 45 miles (72km) away.
The GMB union said it wanted answers from the government and from Babcock about the £60m package which would have offered extra work at Devonport.
Babcock had said the extra work would not be enough to secure Appledore's future.
Some Appledore staff had been temporarily redeployed to Devonport since the news of the lost contract came through.
A "Save Appledore Shipyard" petition has been signed by more than 9,000 people, and was handed in at the House of Commons on Tuesday.
In a letter sent to Devon MP Geoffrey Cox before the announcement of the closure was made, Gavin Williamson, Secretary of State for Defence, said he had received "no assurances from Babcock that the company would keep the yard open if help were offered by the MoD".
The government said it was disappointed at the news.
"While this is a matter for the company, the government stands ready to support any workers affected at this concerning time," a statement said.
Geoffrey Cox said it is now "disappointingly evident" that Babcock lacked a commitment to Appledore.
He will meet Mr Williamson to discuss how the government could persuade another company to take over the yard, he said.
Appledore Yard was founded in 1855 on the estuary of the River Torridge
It was known as "P.K. Harris & Sons" until it became Appledore Shipbuilders in 1963
Babcock International bought the yard in 2007
Appledore has built elements of two Queen Elizabeth class aircraft carriers, including bow sections for the HMS Queen Elizabeth and HMS Prince of Wales
The company has built more than 350 vessels, including military craft, superyachts and ferries
In a statement, engineering firm Babcock said it very much regretted having to take this course of action and recognised the impact it will have on its workforce.
"The company will now engage in a consultation period, working closely with its employees and their trade unions representatives during this difficult time," it added.
Related Internet Links
The BBC is not responsible for the content of external sites.