Murder accused Devon drug dealer 'feared for life'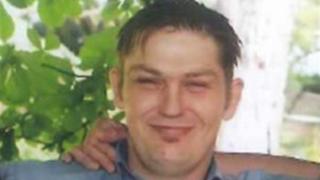 A drug dealer accused of murdering a man with an ornamental fork told a court he feared for his life when he grabbed it.
David Ablett said Matthew Jackson hit him in the head with a knuckleduster and tried to strangle him at his bedsit last June, Exeter Crown Court heard.
He said he was acting in self-defence during a fight over drugs and money.
Mr Ablett, 52, from Devon, denies murder but admits being concerned in the supply of heroin and cocaine.
He said he put his fingers in Mr Jackson's eyes twice to make him release his grip after he attacked him.
Mr Ablett told the jury he was attacked by Mr Jackson, a heroin addict, during the fight over drugs and money.
"I was defending myself, I just wanted it to stop," he said. "I was fighting for my life. I thought I was going to die."
The prosecution said Mr Ablett, of Teignmouth, murdered Mr Jackson in the early hours of 3 June by stabbing him six times in the chest with the ornamental carving fork.
Mr Jackson died from blood loss caused by injuries to his heart, lungs and liver after the prongs of the fork penetrated 3in (8cm) into his chest.
Mr Ablett said an argument had started after Mr Jackson, 38, demanded heroin "on credit".
After he refused, he told the jury Mr Jackson attacked him and had started stabbing him with the fork until it dropped on the floor.
Mr Ablett said he picked it up and used it to defend himself.
He then called his friend Neal Hinton and they moved the body from his flat across the road and dumped it next to a wheelie bin, the court heard.
Neal Hinton, 39, of Teignmouth, has pleaded guilty to perverting the course of justice.
The trial continues.