Gunmen raid Plymouth ice cream parlour and store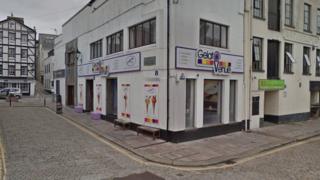 Two shops have been raided by men wielding guns in Plymouth in less than 24 hours.
A man with polka dot tights pulled over his head threatened staff at Vanti's Gelato Venue ice cream parlour at 18:30 GMT on Thursday and escaped with cash.
At 14:00 on Friday, a man with a gun grabbed the whole till at the Premier store on North Road West and dropped the weapon as he ran off.
Devon and Cornwall Police say it is too early to link the two crimes.
James Williams, who owns the family-run Vanti's Gelato Venue, described the robbery as "an act of desperation".
He said: "An 18-year-old member of staff was in the shop on her own at the time.
"The man pointed a gun at her. We are so proud of how well she dealt with the situation. She was amazing."
Police say a gun was found after the second armed raid.
More news from Devon and Cornwall
The suspect in the first raid is said to be in his 40s, 5ft 8ins (1.7m) tall and of average build, with a short, grey beard and gaunt cheekbones.
He was wearing a grey hooded top and a brown coat, and had the upper part of his face obscured by hosiery.
Devon and Cornwall Police said in a statement: "A full policing response was sent to the area including officers from the armed response unit, but despite full searches the suspect was not located."