Failed Exeter bomber Nicky Reilly was 'easy target for radicalisation'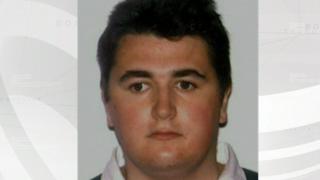 A failed suicide bomber who attempted to blow up a restaurant in 2008 was an "easy target" for radicalisation, his mother has told an inquest.
Mohammed Saeed Alim, born Nicky Reilly, from Plymouth, converted to Islam before the planned attack on the Giraffe restaurant in Exeter, Devon.
He was jailed in 2009 and found dead in HMP Manchester in 2016.
At the hearing in Heywood, Kim Reilly said her son had Asperger's syndrome, was bullied and had self-harmed.
Only explosion victim
Reilly, who admitted attempted murder and preparing an act of terrorism, was sentenced to life in prison, to serve a minimum of 18 years.
He carried three nail bombs into the restaurant when one exploded in his hands in a toilet, wounding only him.
Opening the inquest, coroner Joanne Kersley said he was found hanged on 19 October 2016, aged 30.
He had been moved to the prison following an assault on staff at Broadmoor psychiatric hospital where he had been held, the inquest heard.
His Asperger's diagnosis has helped to explain the bullying he experienced at school, Mrs Reilly told the hearing.
She said her son was "vulnerable" for those who sought to radicalise him.
He started visiting a mosque after the 9/11 attacks in the United States in 2001. She said "they welcomed him ... he was looking for somewhere to fit in."
Mrs Reilly said she later came to believe that he subsequently met people involved in his radicalisation but had been naive about Islam at the time.
Police previously said they believed Reilly was encouraged by extremists in Pakistan.
Forensic psychologist Dr Kevin Murray treated Reilly at Broadmoor and said: "His mental disorder may have made him more vulnerable to being recruited or radicalised."
The jury inquest continues and is due to last for eight days.