Devon and Somerset Fire Authority chair 'smelled of alcohol'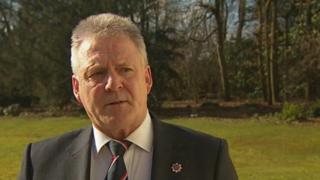 A fire authority boss sent a threatening email, arrived at work smelling strongly of alcohol and disclosed confidential information to a third party, a hearing has been told.
Mark Healey MBE, from Devon and Somerset Fire and Rescue Authority, also made an "aggressive telephone" call, a standards committee heard.
He has been told to "write a meaningful letter of apology" to the complainant and the fire authority for his conduct.
Mr Healey has refused to comment.
He was awarded an MBE in 2016 for his services to fire safety and reform.
The committee heard that on 18 May, Mr Healey sent the email which contained an "implied threat" and referenced the resources committee.
On 31 May, he made an "aggressive telephone call" to the same unnamed person.
In a statement, the committee heard he "regretted any offence and upset" and some of his language "may have come across as threatening" in the call.
The standards committee meeting - which was closed to the public and press - also heard Mr Healey discussed confidential information during a resources committee meeting.
'Refresher training'
In published minutes, it said the committee was told "on 17 April 2018, Councillor Healey attended a meeting, at which the complainant was present, smelling strongly of alcohol" but he said "any such smell would have been from the consumption of wine the evening before".
The committee found the allegation did not breach the code of conduct as "there was no evidence" he was drunk or could not work.
Mr Healey is the former chairman of the fire authority and current chairman of the Audit and Performance Review Committee, as well as a Conservative Somerset county councillor.
The committee told Mr Healey to "write a meaningful letter of apology" to the complainant and a letter to the fire authority "acknowledging and apologising for his actions".
He was also told to complete refresher training on how to handle confidential information.