Devon drug dealer guilty of murder with ornamental fork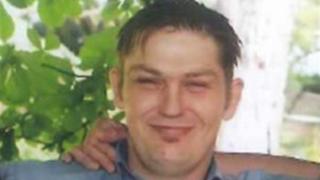 A drug dealer has been found guilty of murdering a man by stabbing him with an ornamental fork.
Matthew Jackson was attacked with a two-pronged carving fork when he went to David Ablett's bedsit in Teignmouth, Devon, to buy £30 worth of heroin, Exeter Crown Court heard.
Ablett, 52, denied murder, saying he acted in self-defence during the fight in June over drugs and money.
Judge Peter Johnson told him he would be jailed for life.
Ablett said an argument had started the 38-year-old victim demanded heroin "on credit", and that Mr Jackson hit him in the head with a knuckleduster and tried to strangle him.
He told the court he feared for his life when he grabbed the fork after Mr Jackson dropped it.
The prosecution said Ablett stabbed Mr Jackson six times in the chest and he died from blood loss from his injuries after the fork's prongs penetrated 3in (8cm) into his chest.
More news from Devon and Cornwall
Ablett called his friend Neal Hinton and they moved the body from his flat across the road and dumped it next to a wheelie bin, the court heard.
Defending, Mr Paul Dunkels QC said Ablett only sold drugs to feed his own habit and there had been an element of excessive self-defence in the killing.
Ablett, of Barnpark Terrace, had admitted a charge of being concerned in the supply of heroin and cocaine.
Hinton, 39, of Teignmouth, has pleaded guilty to perverting the course of justice.
Both are due to be sentenced on Tuesday.