Devon drug dealer who murdered man with carving fork jailed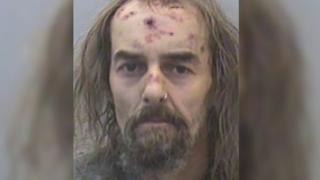 A drug dealer who murdered a man with a two-pronged ornamental fork over a £30 heroin deal has been jailed.
David Ablett, 52, claimed he stabbed Matthew Jackson in the chest with the carving fork in self-defence.
But he was convicted of murder and sentenced to life with a minimum term of 16 years at Exeter Crown Court.
Mobile phone footage played in court showed Ablett, nicknamed "Scabby Abby", repeatedly throwing the fork at a mannequin's head.
The attack took place at Ablett's bedsit in Teignmouth, Devon, following an argument about drugs and money in June, the court heard.
Ablett told the court the argument had started when Mr Jackson, 38, arrived at his flat in Barnpark Terrace and demanded heroin "on credit".
He told the jury that Mr Jackson had grabbed the fork and started stabbing him when he refused.
Ablett said he only picked it up when Mr Jackson dropped it, and had used it to defend himself.
Texts on the victim's phone suggested that he may have planned to rob Ablett but Judge Peter Johnson said the attack went far beyond self-defence.
He told Ablett: "I accept he may have been violent or threatened violence, but not to anything like the level you alleged.
"You had the weapon as part of your unlawful enterprise. It was not a normal domestic item seized in the heat of the moment."
The court heard that Ablett had washed the murder weapon and hid it in undergrowth.
His friend Neal Hinton, 39, helped him dump the body near a neighbour's wheelie bin.
Hinton has pleaded guilty to perverting the course of justice and will be sentenced on Monday.
Ablett was also found guilty of supplying a Class A drug and sentenced to three years in jail to be served concurrently.