Nicky Reilly: Bomber 'did not want to offend again'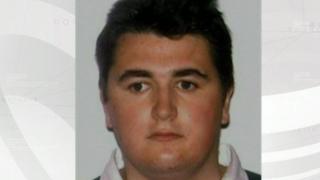 A failed bomber who tried to blow up a restaurant 10 years ago "did not want to offend again", an inquest has heard.
Nicky Reilly had converted to Islam before his bombing attempt in Exeter in 2008. Only he was injured.
Reilly, who was found dead in his cell in HMP Manchester in October 2016 had been "really positive" when talking with a doctor the previous May, the inquest was told.
However, he was reported as being "more paranoid" about a week before he died.
Reilly was jailed for life with a minimum of 18 years in January 2009 after the botched attempt to set off a homemade bomb in the Giraffe restaurant the previous May.
'Withdrawn a lot'
Jurors in Heywood, Greater Manchester, are considering the circumstances surrounding his death.
They heard he showed a "positive" reaction to an extremism risk assessment he underwent at HMP Manchester following a transfer from Broadmoor high-security hospital.
He was moved back to a prison after attacking staff in July 2015 over a ban on communal prayers.
Jurors were told Reilly, from Plymouth, worked with prisons terrorism adviser Dr Zainab Al-Attar.
Dr Al-Attar said: "He wanted to progress. He really didn't want to offend again."
Latest news and stories from Devon
Reilly, who had changed his name to Mohammed Saeed Alim, had become agitated in the weeks before his death after his request to attend Friday prayers was turned down, notes from prison staff reported.
After medication changes, it was also noted that he withdrew and had "dark thoughts".
On 4 October he was said to be acting "very bizarre" and "lacks energy".
A week later staff noted he was not sleeping well and "getting more paranoid". He was found dead on 19 October, when he was aged 30.
The hearing continues.