Overweight cat Large Marge found dumped next to bin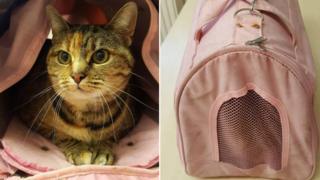 A cat so overweight she is twice the size she should be has been found dumped in the rain next to a recycling bin in a supermarket car park.
The animal, thought to be eight years old, was found zipped into a pink carry case by a member of the public at a Sainsbury's in Plymouth on Tuesday.
The tubby tabby was taken to Gables Farm Dogs and Cats Home where she has been nicknamed Large Marge.
Staff want to speak to anyone who can track down the cat's medical records.
Deputy manager Ruth Rickard said Marge was microchipped to a home in the St Judes area of Plymouth but the registered phone number was out of date.
She said staff were desperate to track down her medical history.
The RSPCA said it receives "tens of thousands of calls" every year about abandoned animals including cats, dogs and horses.
"Abandoning pets should never be seen as a solution to a problem, as pet owners do have a responsibility to care for their animals appropriately," a spokeswoman said.
"It's also important to make sure microchips are kept up to date so if your pet becomes lost they can be quickly reunited with you."
The animal home has previously hit the headlines for taking in homeless overweight dogs Bopper the Whopper and Hattie the Fatty.