Research worms 'too old' to go to space station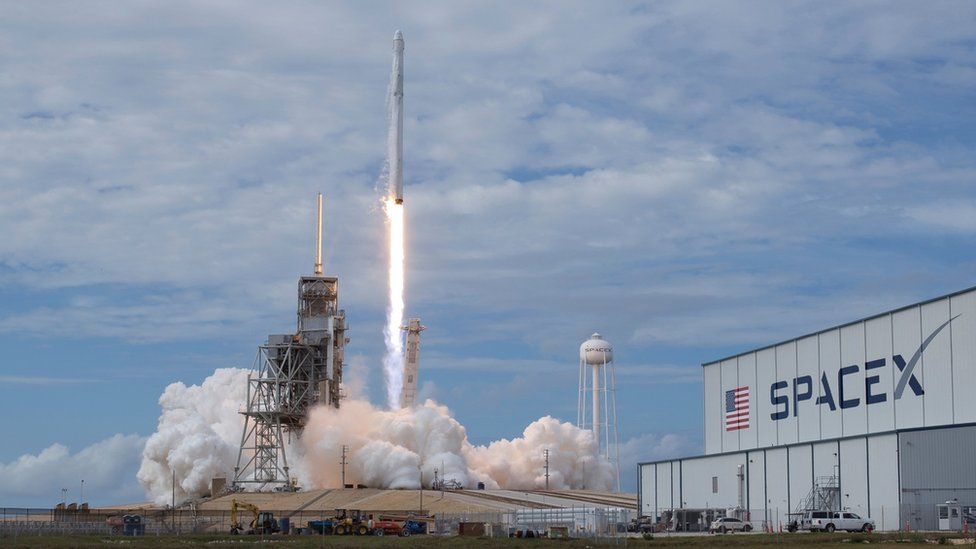 Thousands of worms being blasted into space could be "too old" for research when they get to the International Space Station (ISS).
The launch of a SpaceX rocket was delayed after mouldy food was found among another research team's kit.
Teams from Exeter, Nottingham and Lancaster universities are hoping the microscopic worms could lead to new treatments for muscular dystrophy.
The worms were meant to be "just turning into adults" at the launch.
The SpaceX Falcon 9 rocket was due to launch from the NASA Kennedy Space Centre in Cape Canaveral, Florida, on Tuesday evening, but has now been rescheduled for 18:16 GMT on Wednesday.
The 24-hour delay means that the worms will be a day older than planned when they reach the ISS, and the research teams may have to rely on "back-up colonies" that will need to be prepared for their unexpected trip.
Libby Jackson, from the UK Space Agency, said: "The timing will be quite critical to the worm research, they were ready to go into the capsule and it had been timed that they were just turning into adults at the time of launch.
"That's now all gone out of the window because everything has shifted by a day.
"This is what happens in space flight, we've always got to be prepared."
The Molecular Muscle Experiment aims to "understand the causes of neuromuscular decline in space", she added.
A Russian Soyuz crew ship launched from Kazakhstan on Monday with two new astronauts - Anne McClain, an American who studied at Bath and Bristol universities, and Canadian David Saint-Jacques, who studied at Cambridge University.
They were joined by veteran cosmonaut Oleg Kononenko.
The worms share many biological characteristics with humans, according to Exeter University, including "alterations to muscle and the ability to use energy".
Dr Timothy Etheridge said space flight represented "an accelerated model of the human ageing condition".
"Hopefully by understanding molecular causes and counter measures against that, space flight may provide an opportunity to understand human ageing on earth," he added.
Their scientific name is Caenorhabditis elegans
The transparent worm, or nematode, is about 1mm long
Most are hermaphrodites, although some are male
They don't have respiratory or circulatory systems, but do share some muscular similarities with humans
It was the first multicellular organism to have its whole genome sequenced
Related Internet Links
The BBC is not responsible for the content of external sites.