Worms blast into space on rocket to ISS research team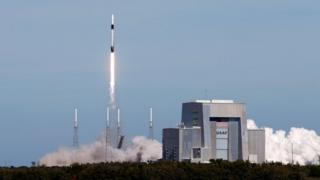 Thousands of worms have been fired into space so that scientists can learn how their muscles work in zero gravity.
They hitched a ride on the SpaceX Falcon 9 rocket, lifting off from Cape Canaveral, Florida at 18:16 GMT on Wednesday.
The flight was delayed for 24 hours after mouldy food was found in another team's capsule within the rocket.
The worms are scheduled to arrive at the International Space Station (ISS) on Saturday.
Teams from Exeter, Nottingham and Lancaster universities are hoping the microscopic worms could lead to new treatments for muscular dystrophy.
The Molecular Muscle Experiment aims to "understand the causes of neuromuscular decline in space".
The two new astronauts who will be conducting experiments on the worms have already arrived at the ISS.
Anne McClain, an American who studied at Bath and Bristol universities, and Canadian David Saint-Jacques, who studied at Cambridge University, launched from Kazakhstan in a Russian Soyuz on Monday.
Researchers had been worried that the worms, which have a life span of about two weeks, could have grown to be too old after the launch was delayed.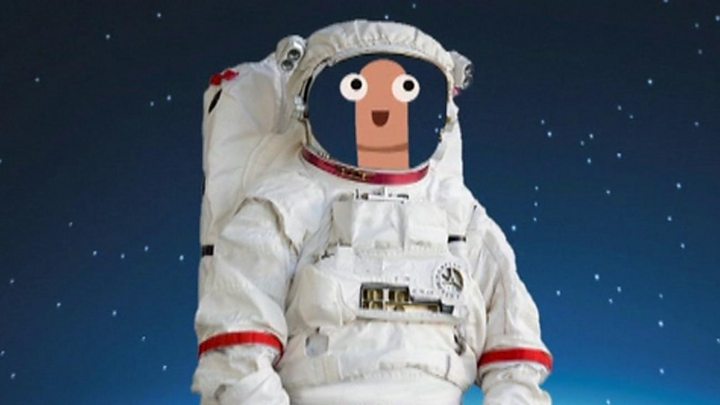 The worms share many biological characteristics with humans, according to the University of Exeter, including "alterations to muscle and the ability to use energy".
Research fellow Colleen Deane said: "Astronauts lose muscle mass in space...and this really impairs their mobility when they're back on earth.
"What we're trying to do with these worms is to try to understand the precise molecular mechanisms that are contributing to that loss of muscle.
"It goes further than that because as you age, you lose muscle mass as well, so we can hopefully translate these findings into other populations such as aging."
Other experiments among more than 250 on board include one which involves a new kind of mustard green lettuce that will be grown in space by astronauts.
The mission is SpaceX's 16th for Nasa as part of a long-term contract to ferry supplies to space.
The worms
Their scientific name is Caenorhabditis elegans
The transparent worm, or nematode, is about 1mm long
Most are hermaphrodites, although some are male
They don't have respiratory or circulatory systems, but do share some muscular similarities with humans
It was the first multicellular organism to have its whole genome sequenced