Farmer William Dolley jailed for letting calf starve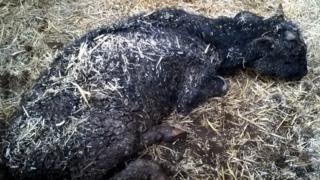 A farmer who let a calf starve and left dead sheep in a field has been jailed and banned from keeping livestock.
William Dolley, 49, was caught with piles of bones, dead animals and sick cattle on his farm in Devon twice in 11 months by trading standards inspectors.
He was jailed for 18 weeks and banned from keeping animals for five years by Judge Peter Johnson at Exeter Crown Court.
Dolley was allowed 56 days to arrange the disposal of the livestock.
He had been due to stand trial over a previous inspection in 2017.
But when a vet and trading standards officer returned to Holwell Farm at Collipriest, near Tiverton, on 7 February 2018 they found two dead sheep lying unburied in fields where other animals were grazing.
They also discovered piles of rubbish, old bones and an emaciated black bullock calf lying on its side in a cattle shed with no food or water.
Its condition was so bad that it was killed immediately on the orders of the vet.
Dolley admitted causing unnecessary suffering to the bullock, three charges of failing to dispose of carcases and one of failing to prevent animals having access to by-products.
He said he was distracted at the time of the offences while coping with the death of his brother from cancer a week earlier.
Dolley also claimed to have been helping a neighbour and friend who had also been diagnosed with terminal cancer.
He claimed his stockman had day-to-day responsibility for the livestock.