MP Johnny Mercer's £85k salary linked to failed bond scheme agent
By Chris Quevatre & Tom Palmer
BBC News Online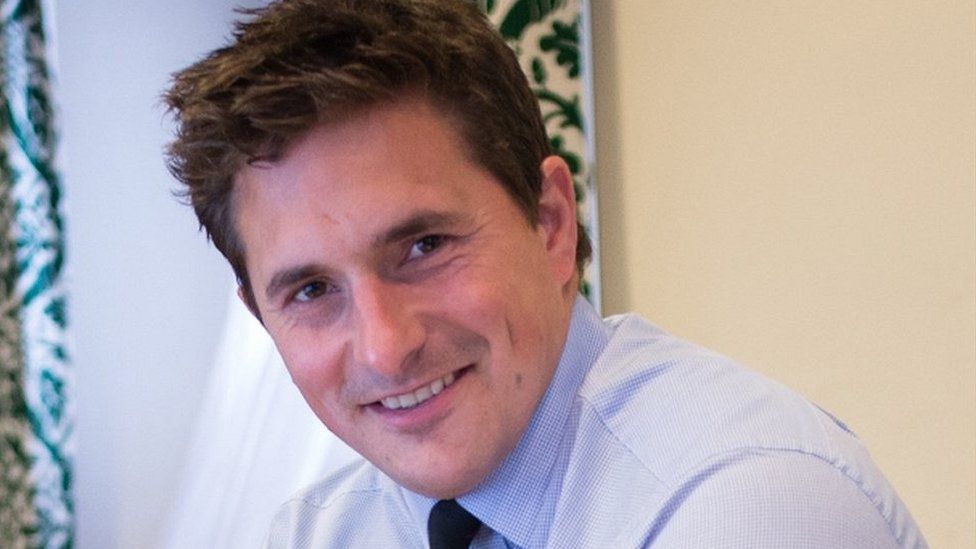 A company that marketed a failed bond scheme that lost savers £236m has been funding an MP's private salary.
Johnny Mercer receives £85,000 from Crucial Academy, a company ultimately funded by Surge Financial Limited.
Surge Financial Limited took 25% commission for marketing bonds by London Capital and Finance (LCF), which is now in administration.
Mr Mercer - who is facing calls from investors to quit as an MP - said he had done nothing wrong.
The Conservative MP for Plymouth Moor View is a non-executive director of Crucial Academy, which trains military veterans and aims to find them employment.
Mr Mercer, himself a former Army officer, is contracted to work 20 hours per month, a rate of more than £350 per hour.
The basic annual salary for an MP is £79,468, and they also receive expenses to cover the costs of running an office.
According to Mr Mercer's register of members' interests, his only other regular income is the £85,000 per year from Crucial Academy.
You may also be interested in:
What are the rules for MPs on second jobs?
MPs are allowed to have other jobs in addition to their roles in Parliament and their constituencies.
Currently, there are a number of lawyers, some doctors and nurses, and even a football referee in the Commons.
But there are some rules they have to follow.
All MPs have to declare any individual work payments to the Register of Members' Financial Interests if they are more than £100.
If, over the course of the year, they earn more than £300 from one source, they then have to declare every payment from that employer, however big or small.
Government ministers are subject to the same rules, plus they are not allowed to be paid for writing newspaper articles and can't write books about their jobs while in employment.
Ministers are also meant to wait for three months after they leave the post before taking another job outside of the government.
Amanda Cunningham was trying to save money for her autistic son when she lost more than £22,000 investing in LCF.
She said she was never told Surge Financial Ltd was taking 25% commission and was angry some of that money had been funding Mr Mercer's salary.
"Politicians are there for the people, and Johnny Mercer is not thinking about the people," she said.
"The best thing for him to do would be resign - or give that money back."
Surge Group Limited and Surge Financial Limited are both owned by Paul Careless
Surge Financial takes commission for acting for companies such as London Capital and Finance, which collapsed in February
It takes commissions of up to 25% of the capital invested
Surge Group is funded entirely by Surge Financial, and invests in various associated businesses including the Crucial Group, whose subsidiary company Crucial Academy employs Johnny Mercer MP
Surge Group's independent auditors said Surge Group was reliant on funds from Surge Financial
John Wright invested £36,000 of his wife's money into LCF after being enticed by the 8% interest rates - far higher than the 0.25% offered by their bank.
"[Mr Mercer is] involved with a company like Surge, which took a quarter of my money for putting adverts on the web recommending LCF as their top buy," he said.
Mr Wright, a long-time Conservative supporter, said he had lost all faith in Parliament and called for Mr Mercer to stand down.
The company claims to have trained 80 veterans since July 2018, with more than 72 "finding gainful employment post-course in the cyber security industry".
Mr Mercer said: "I totally reject the assertion that I have done anything wrong in working as a non-executive director of Crucial Academy.
"I have sought rigorous assurances that at no stage was capital used from any business with LCF, in Crucial Academy.
"I received those assurances. It now appears there is a historical link between the two, that has been uncovered in the accounts when Surge Group loaned the Crucial Group £325,095."
He said having joined the academy "only last autumn" he clearly "had no role" in setting up the link.
"When this historic link was discovered, the leadership of Crucial Academy immediately implemented a management buy-out and the loan was repaid, in order to ensure the continuing integrity of Crucial Academy," Mr Mercer explained.
Crucial Academy was "a good organisation, doing good things, run by good people, with no financial link to London Capital and Finance", he said.
However, the accounts of Surge Group have been published and show nearly £9m was loaned from Surge Financial to Surge Group without which, the auditors said, the company would be unlikely to survive.
Surge Group then loaned £325,095 to the Crucial Group, which owns Crucial Academy.
An industry expert told the BBC the cost of training 80 people on the courses provided by Crucial would be about £240,000.
When added to the cost of Mr Mercer's £85,000 salary, the total almost exactly matches the amount loaned to Crucial Group.
In a statement to the BBC, representatives of Surge Group said that all financial links with the Crucial Group had now been severed.
London Capital & Finance (LCF) is now in administration after collapsing while owing £236m to bondholders
It advertised bonds as ISAs, offering returns of 8% despite giving 25% of the money straight to Surge Financial Limited as a commission
Nearly 12,000 lost their money, with many investing for the first time with inheritances or pensions
Four people were arrested by the Serious Fraud Office in relation to LCF
Less than 20% of the lost money is expected to be recovered
Update 12 June 2019: The headline of this article has been amended to clarify the source of funding for Mr Mercer's salary.
Related Internet Links
The BBC is not responsible for the content of external sites.