Coronavirus: Solo passing-out parade for isolating officer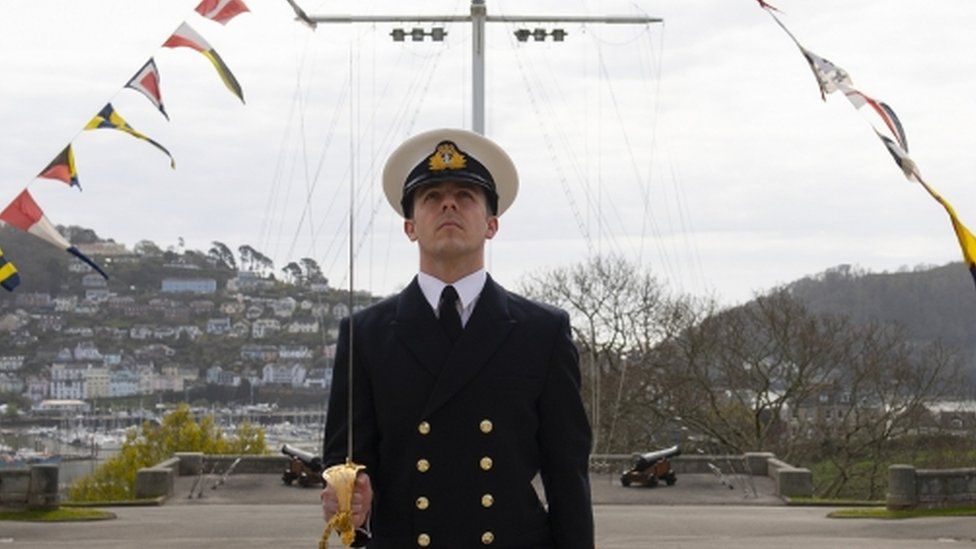 A naval officer has made history by passing out of training by himself.
Sub Lt Matthew Poxon, 29, missed the official ceremony at Britannia Royal Naval College in Dartmouth, Devon, due to being in self-isolation.
Instead, a separate parade was organised and he was inspected by the commanding officer of the historic college.
He followed the tradition of marching up the steps from the parade ground and through the main door.
It marked the first solo passing-out in the college's 157-year history.
Sub Lt Poxon, who has previously served on the Type 45 destroyers HMS Dauntless and HMS Diamond, said he was "incredibly grateful" to have been able to take part in the ceremony but it had been quite "daunting" to do it alone.
"At least I couldn't be out of step with the rest of my division," he said.
"Apparently the First Sea Lord is aware of the story and said that I must buy all my entry a drink for having my picture published.
"I'll certainly do that next time I see them."
Sub Lt Poxon, from Hampshire, joined the Royal Navy as a rating in 2010 and reached the rank of petty officer before being selected for promotion to the Officer Corps in 2017.
The college's commanding officer, Capt Readwin said: "In these difficult times, families were not invited to our recent parade to comply with the government's directives to deal with the Covid-19 pandemic.
"The current situation by no way undermines their great effort and determination to serve their nation as so many naval officers have done so before them."
More than 60 engineers, 50 warfare specialists, two naval chaplains, five logistics experts and nine officers from the Royal Fleet Auxiliary passed out of the college in April.
A spokeswoman for the Navy said the larger ceremony was carried out with people who had been living together for weeks beforehand and participants maintained a 2m distance from each other throughout.
Related Internet Links
The BBC is not responsible for the content of external sites.