First Plymouth beaver for 400 years gets companion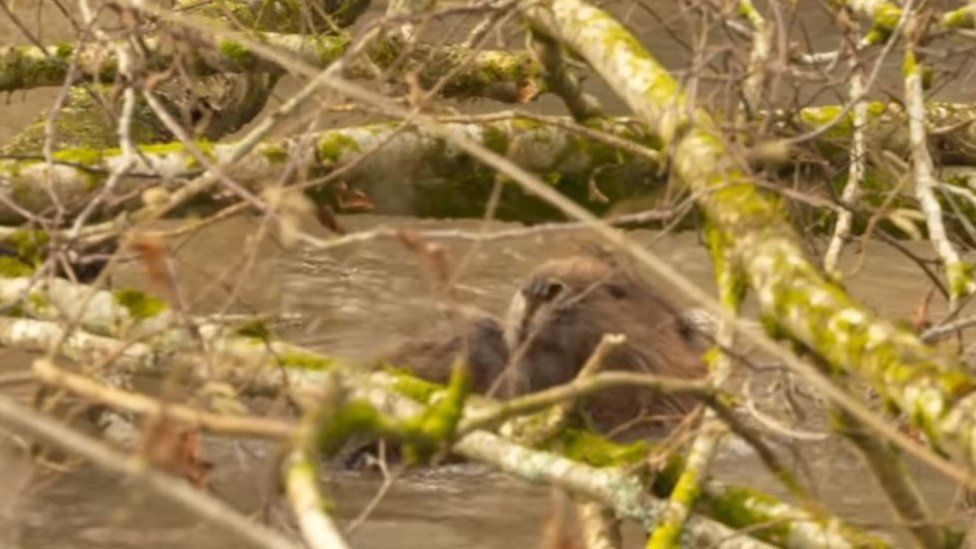 The first beaver in Plymouth for more than 400 years has been joined by a female companion.
A male beaver was released into the Forder Valley in November and a female Eurasian beaver has now been introduced.
The beavers are living in a specially designed re-wilding enclosure near Poole Farm.
It is hoped they will reduce flooding downstream and create habitats for wildlife in the Bircham Valley.
The female beaver, caught in the wild in the Tay Catchment in Scotland, swam around the pond for several minutes on Sunday, before the male beaver joined her for a tussle in the water.
Beaver expert, Roisin Campbell-Palmer said it was "brilliant" seeing the two beavers meet and that "it didn't happen under the cover of darkness".
"There was a bit of pushing, but this is normal beaver behaviour," she added.
The Devon Wildlife Trust expert said she hoped they would come together "hopefully set up home and they'll spend a year building dams", before hopefully breeding next year.
Introducing the beavers is part of a Plymouth City Council project called Green Minds, which aims to create more spaces for wildlife and nature around Plymouth, whilst also encouraging people to enjoy the health benefits that green spaces can offer.
Beavers engineer their surrounding by felling trees, making dams and creating networks of canals - as well as providing wetland habitats for birds, fish and invertebrates.
The rodents also slow the down the flow of water, which can reduce flooding and improve water quality.
Experts will be monitoring two similar rivers, Bircham and Seaton, to see what impact the beavers have.
Both beavers were caught from conflict areas in the Tay catchment where they were at risk of being culled.
Related Internet Links
The BBC is not responsible for the content of external sites.