Covid-19: Military deployed to Exeter Nightingale to help with rising cases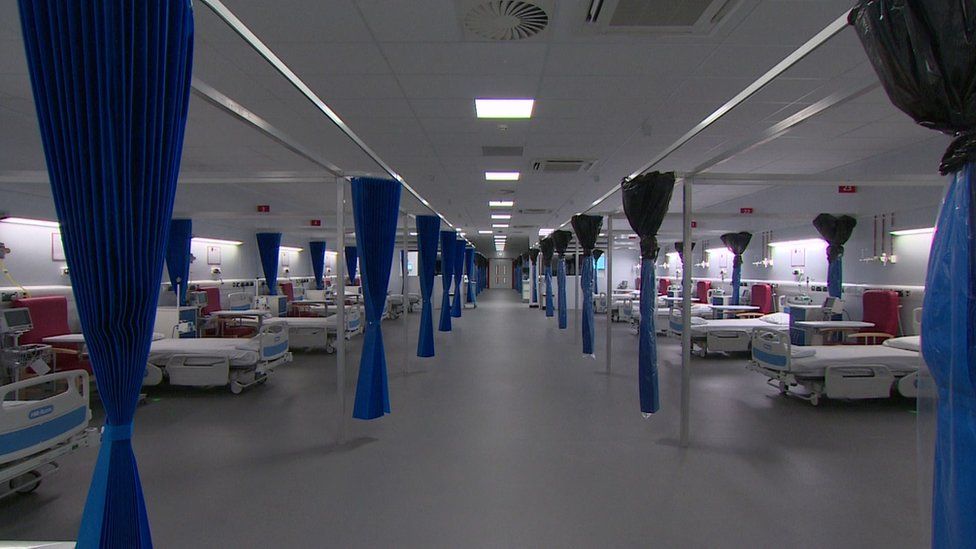 Military personnel have been deployed to Exeter's Nightingale hospital to help with rising Covid-19 cases.
The troops will help the 116-bed emergency facility to expand the number of open wards and care for patients.
They will also be deployed to a "number of hospitals" in the south west to support them, the NHS confirmed.
Cornwall's NHS trusts said no military staff were currently at the Royal Cornwall Hospital or the county's community hospitals.
The Northern Devon Healthcare Trust, which runs the North Devon District Hospital in Barnstaple, said it has "expressed an interest in receiving support from the military but this has not yet been confirmed."
It is not clear how many troops are being deployed or which branch of the armed forces they are coming from.
The NHS welcomed the support and expressed gratitude to the troops providing the assistance.
A spokesperson said staff were "working round the clock to respond to unprecedented pressure on the NHS".
Infection rates in the county have now dipped below the 200 cases per 100,000 people mark and have fallen for six days in a row.
Steve Brown, Devon's director of public health, said: "The steep rise in Covid cases we have seen since Christmas now looks like it's beginning to level off in Devon and our numbers are stabilising."
However Mr Brown added that hospitals were "working flat out" and an increase in the number of deaths was "likely to continue for several more weeks to come".
Related Internet Links
The BBC is not responsible for the content of external sites.