Dawlish sea wall on storm-hit track is 'success'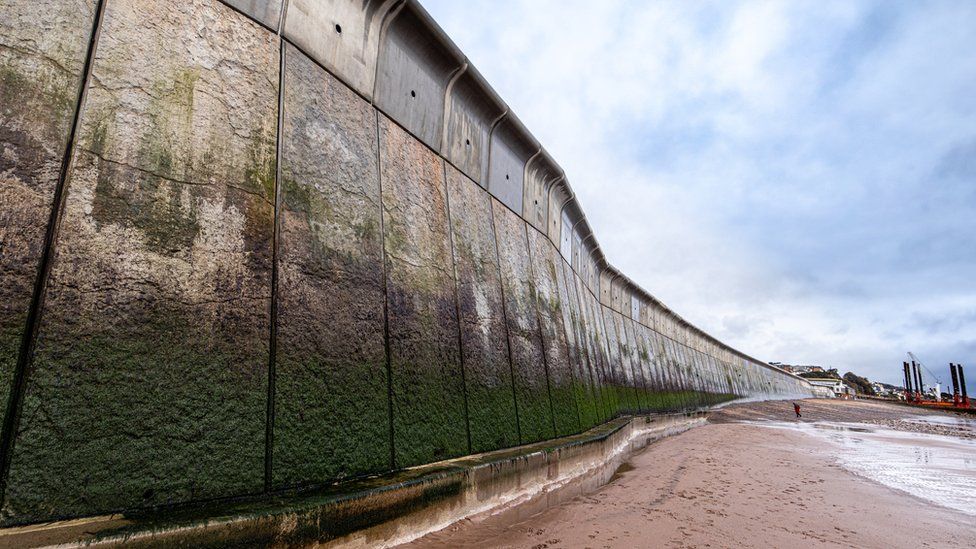 A new sea wall is protecting a railway track which was destroyed in a fierce storm say rail chiefs.
Part of the line, which runs along a stretch of beach at Dawlish in Devon, was washed away by the sea in February 2014.
It left Cornwall and most of Devon without a railway line to the rest of the country for several weeks.
Network Rail said the wall will "protect the town and region for at least the next 100 years".
The line, which was designed by Isambard Kingdom Brunel, was left dangling in the air by the storm.
It was reopened eight weeks later and then the work started on creating a new £80m sea wall to give the line long-term protection.
In May 2019 Network Rail started construction.
It completed the first section, which runs for 1,180ft (360m) along Marine Parade west of Dawlish station, in July 2020.
Network Rail said further storms since completion of the first phase had "showed the wall's effectiveness", with waves "successfully being deflected back out to sea".
Work on a second section of the wall, which will protect the eastern side of the station, started in November and is "progressing well", said Network Rail.
A major part of the work has involved an eight-legged, walking jack-up barge, known as a Wavewalker, which has been used to drive piles into the ground.
Alison Foden, Mayor of Dawlish, said the work was "vitally important" for the town and progress with the wall had been "brilliant".
The project is expected to be completed by the start of 2023.
Related Internet Links
The BBC is not responsible for the content of external sites.