Devon army cadet raises funds for wounded veterans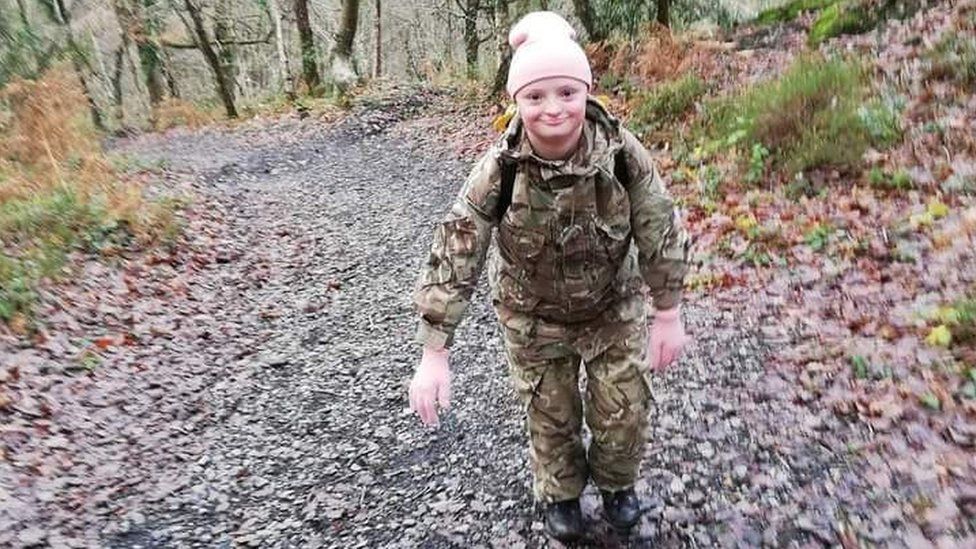 A teenage army cadet with Down's syndrome has been described as "inspirational" after challenging herself to raise money for veterans.
Niquita Potter, 17, from Newton Abbot in Devon, raised £1,300 by walking 14 miles (22.5km) in December, and has set herself another challenge.
She smashed her initial target of £100 and now plans to walk 40 miles (64km) from Exeter to Plymouth.
Her commanding officer said "what she's done has been inspirational".
It took her eight hours to complete the walk from Haytor on Dartmoor to the Newton Abbot war memorial in bad weather conditions.
She raised money for the charity Walking with the Wounded and said: "I'm really proud of myself. It was so wet and cold and took a long time."
Her mum, Sarah Potter, said: "I wasn't sure she'd be allowed to go [to cadets]. I went and they said if she's willing to turn up she can and see how she goes.
"That was six years ago and she's done amazingly well, she's achieved so much. It's done so much good for her and the cadets.
"I'm so proud of her, she's achieved so much in her life. She's my inspiration."
Major Paul Atkin, her commanding officer at the Devon Army Cadet Force, said: "What she's done to raise money has been inspirational for the army cadet force".
He said he felt "pride as her commanding officer" and that her "fantastic achievement" was an "inspiration to the other adults and cadets that are part of our company".
Related Internet Links
The BBC is not responsible for the content of external sites.