Devon and Cornwall wildfires could 'devastate wildlife'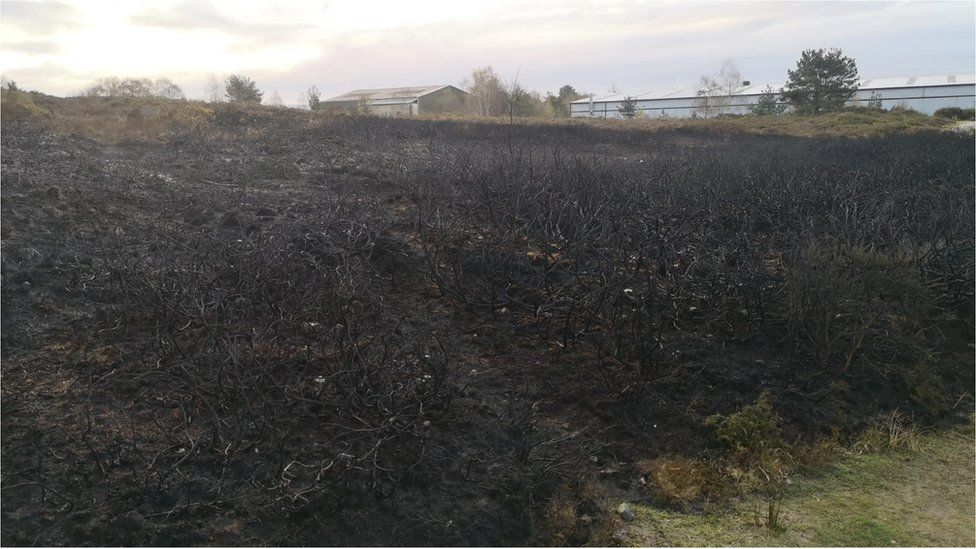 Campaigners fear wildfires could "devastate local wildlife" after the latest in a series of blazes to hit nature reserves.
Wildfires, some started deliberately, have hit reserves and heathlands.
Devon Wildlife Trust fears for breeding animals as lockdown rules are relaxed.
"At this time of year, birds are nesting, reptiles and insects are emerging and wildflowers are beginning to bloom," said Steve Hussey from the trust.
"The timing really couldn't be any worse."
The trust said people had been having barbecues and open fires at another reserve, Meeth Quarry near Hatherleigh in north Devon.
"A very dry spring means that our countryside is extremely vulnerable to fire," said Mr Hussey.
"All it needs is a discarded cigarette, a barbecue or spark from a fire pit and a large wildfire could ignite.
"The results of this can be devastating, not only for local communities, but for wildlife too."
The trust is also urging people to consider wildlife which have been disturbed by dogs not on leads and motorcyclists.
"We recognise that people are increasingly looking for green spaces for leisure activity on their doorsteps," he said.
"But our reserves are not playgrounds or parks and need to be enjoyed a little differently."
Related Internet Links
The BBC is not responsible for the content of external sites.