Lost Devon beaver rescued from estuary thriving in new home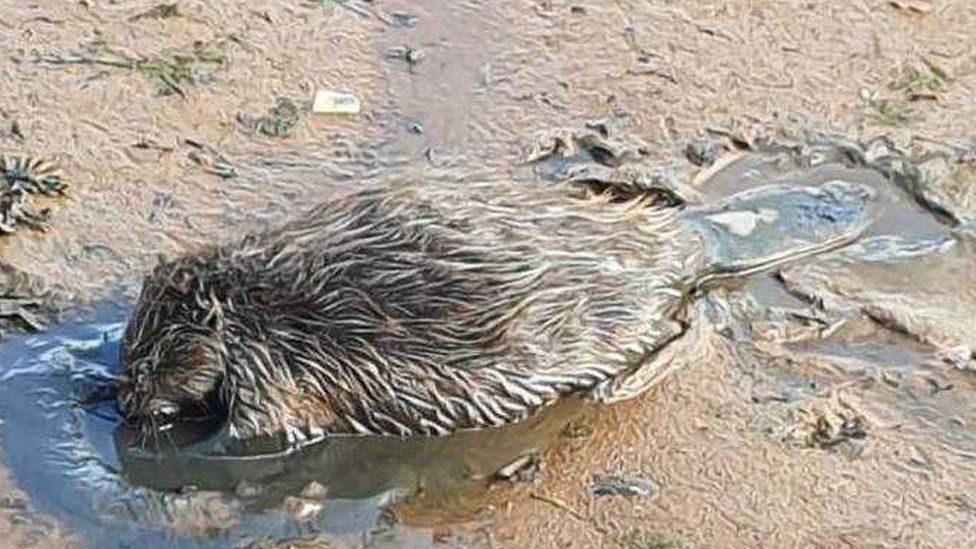 A beaver rescued after becoming lost and stranded in a muddy estuary is now thriving, the RSPCA said.
The juvenile mammal was found in Exmouth, Devon, and was taken for treatment for possible saltwater poisoning at RSPCA West Hatch, a specialist wildlife centre in Taunton.
After rehab it was released into the River Otter and is "doing well", Devon Wildlife Trust said.
The Devon river has become home to many reintroduced beavers.
The wayward beaver was found by a boat owner on 16 April.
Rescuers were initially sceptical that it would have made its way to the River Exe estuary in East Devon.
Tony Bennett, who carried out the rescue, said if they had not been sent a photo he would have expected it to be a "wet squirrel or a young otter" being reported.
But once confirmed he realised "we had a serious problem on our hands".
RSPCA West Hatch's wildlife vet, Dr David Couper, said it came to the centre "totally collapsed".
"I think mostly from exhaustion and stress," he said. "But there was the possibility of salt water poisoning as it is assumed it had been in the sea for a length of time."
Following its release a few days later, the beaver was monitored in a temporary enclosure for two weeks by the Devon Wildlife Trust.
Steve Hussey, from Devon Wildlife Trust, explained the young animal was likely "looking to find a new territory in which to set" when he ended up in the estuary.
"Somewhere along the line it just took a wrong turn," he said.
"We've now returned the beaver to a quiet section of the River Otter and our last observations of it showed the animal to be doing well."
Related Internet Links
The BBC is not responsible for the content of external sites.