Same-sex parents battle for inclusive paperwork for baby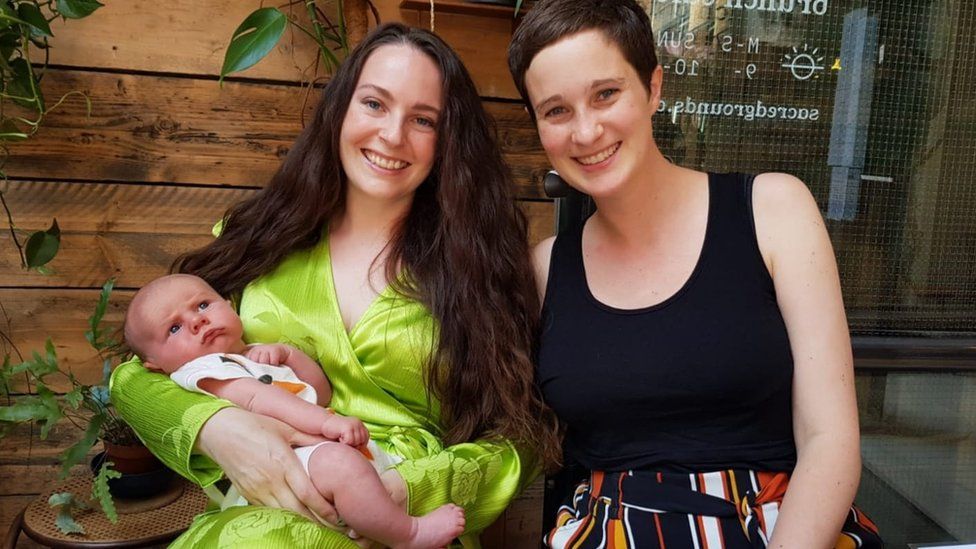 A same-sex couple who recently had their first child are calling for official forms to be more inclusive.
Kate and Gemma Fox, from Exeter, have encountered numerous forms they cannot fill in because they only offer space for the names of a mother and a father.
They include on Devon County Council's website, at their GP surgery and in the red book - the personal child health record given to all new parents.
Since being contacted by the BBC, all three have said they will make changes.
Kate Fox, a lecturer at Plymouth Marjon University, said: "It's basically everywhere.
"I don't think we've come across a single thing so far that has not been super heteronormative."
After their son Nye was born, the couple tried to make an appointment to register his birth using Devon County Council's website but could not.
The council said the form had since been changed and other documentation checked to ensure this did not happen again.
A spokesman said: "We apologise profusely for this oversight and are grateful to the couple for alerting us to this matter."
The couple were also frustrated when they received their red book as it only offers space for the names of a mother and father.
The Department for Health and Social Care said: "The red book would be updated as part of our commitment to ensuring any disparities experienced by those in the wider LGBT community are acknowledged and their needs are considered throughout the health system."
The red book is currently being updated and digitised by the Royal College of Paediatrics and Child Health and the new version is due to be made available from 2023.
Dr Fox said: "The attempt to have a child is often a battle for same-sex couples... and then when you've had a baby and it's super celebratory and then the first pieces of paper you are given say 'mother and father' and it's just, you're almost worn out by the time you have had a baby.
"We certainly were exhausted with the whole thing and then you think I just don't want every little piece of official paper to have to be a battle."
In July, the couple attempted to register Nye at their local GP surgery, St Thomas Health Centre in Exeter.
The online form for registration only had boxes for mother and father and when they called to point this out, Dr Fox said they were told it could be sorted when they brought their son in.
Dr Fox said the paper form had the same wording and they were told to cross out father and write mother.
She said more shockingly, they were handed another form to register a child at the surgery and that form asked for ethnicity but only offered white ethnicities as an option and under religion, only Christian religions.
"I think that's what we are saying... [is] if your form does not accept or represent our family then your form doesn't work," she said.
"It's not that we're being difficult it's that your form is wrong."
Kayleah Logan, co-founder of the Queer Parenting Partnership, said that every month they see couples expressing their "upset at being invalidated as a parent".
"It's not just representation, it's almost erasure of LGBT families," Ms Logan added.
Dr Alice Godwin, GP partner at St Thomas Medical Group, said the forms were a "serious oversight" and added: "We wholeheartedly agree that official forms should be fully inclusive, and we are very sorry for the distress this caused to Kate and Gemma."
She said: "The paper version of the form they were mistakenly given was an old version, which should have been destroyed when it was updated.
"We have made sure that no other copies remain and are reviewing all our documentation to make sure it is inclusive."
Dr Godwin said the online form had also been changed and added: "We pride ourselves on being an open and inclusive practice and these mistakes are simply not acceptable."
Jo Turl, from NHS Devon Clinical Commissioning Group, said it would be contacting all GP practices in Devon to ask them to review their documentation.
She said: "Addressing inequalities is a priority for us so we take this matter very seriously."
Dr Fox called on anyone who wants to be an LGBT ally to take action by finding out what the forms at their surgery say.
She added: "Don't let it be the next same-sex couple or gender non-conforming person or whoever who comes into contact with these documents who has to be the one who has the fight."
A child can only have two legal parents but there is no limit to the number of people who can share parental responsibility
Since 2009, same-sex female couples can include both their names on their child's birth certificate when registering the birth
Male couples must get a parental order from the court before they can be registered as parents
Related Internet Links
The BBC is not responsible for the content of external sites.