Bear Grylls-backed festival activities and hygiene criticised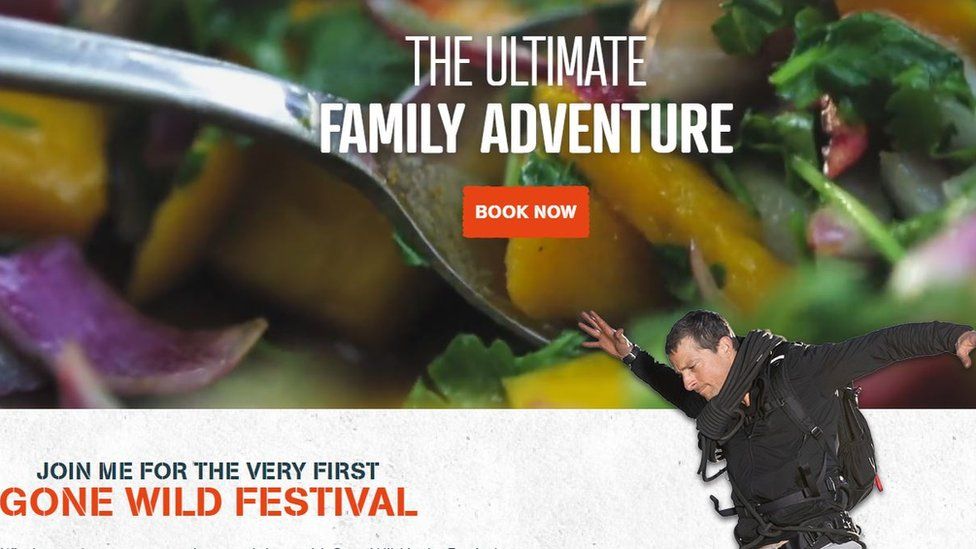 A festival backed by adventurer Bear Grylls has been criticised as over-booked and lacking hygiene facilities.
Some festival-goers at the Gone Wild event at Powderham Castle, in Devon, said many activities were sold out.
The festival, billed as the "ultimate family adventure", features activities like kayaking and survival skills as well as a music line-up.
Organisers apologised and said there were many activities that did not need to be booked.
Sara Hamilton from the New Forest told BBC Radio Devon there were "no real hygiene facilities", no hand washing equipment in the loos and there had been "no checks at all" for Covid tests.
"We need to leave because there's nothing for us to do," she said.
"All the activities that you associate with Bear Grylls have been sold out."
Festival-goers have reported events that needed to be booked were sold out by lunchtime on Thursday - the first day of the four-day event.
Maggie Edwards said she was "gutted about the activities" and said it was "absolutely shocking" to have to pay for the fairground rides.
Helen posted on Instagram: "Over £500 in ticket costs and we can't book anything. Everybody has been in tears, it's a total farce."
Neil Birchenall said: "We're having a great time. I agree with others that a better booking system would be appreciated next year but we're looking forward to a fun weekend."
Speaking to the BBC, Bear Grylls said: "If you put on an event of this size, there are always going to be a few people who feel upset that they can't get on to a certain event.
"The challenge has been there's too many people who want to do these events - not everybody can do everything."
Gone Wild said in a statement that there had been "extremely high demand for some activities" and organisers were "sorry that some people may not be able to do all of their first choice activities".
It said 17 activities needed booking, but there were also more than 60 walk-up activities.
The festival was "being run in accordance with all Covid guidelines" with hand sanitiser "freely available" and limits on the numbers taking part in events inside well-ventilated marquees.
Related Internet Links
The BBC is not responsible for the content of external sites.