Dan Burton: Family 'heartbroken' after fatal air crash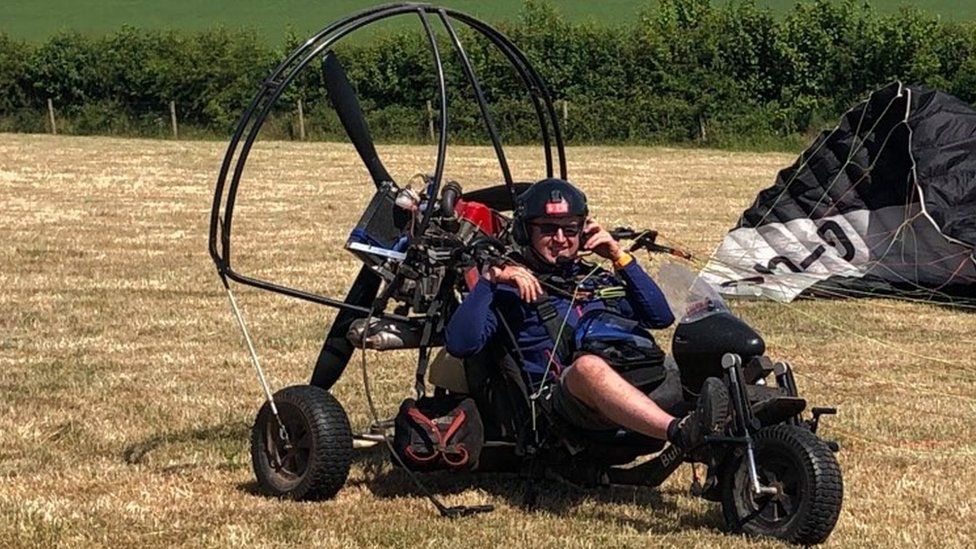 Relatives of "a true adventurer" who died in an air crash have said they are "utterly heartbroken".
The 54-year-old was supporting conservationist Sacha Dench, who was seriously injured in the crash.
His family said he was "dedicated to exploration" and believed there was "no challenge that could not be overcome".
Mr Burton and Ms Dench were flying battery-powered paramotors for Devon-based charity Conservation Without Borders, which Ms Dench founded, to mark the forthcoming UN climate change conference in Glasgow.
Police said their paramotors collided close to Loch Na Gainmhich near Lochinver in Sutherland on 18 September.
Mr Burton's family said the "beloved husband, son, father and brother" was "proud to support Sacha on her journey around the UK in an electric paramotor, to raise awareness about the inspiring action people are taking to tackle climate change".
They added that Mr Burton "would want us all to continue the fight to protect our precious planet".
Ms Dench was "in our thoughts and we wish her a speedy recovery", the family said in a statement.
They also thanked emergency services, the police and the ground crew from challenge organisers Conservation Without Border "who did all they could to help respond to the accident".
Ms Dench's family sent "sincere condolences" to the Burton family and said Mr Burton had "become a part of our family".
"To our Sacha we love you dearly, you are a fighter, you are strong, you are brave get well soon," they said.
Related Internet Links
The BBC is not responsible for the content of external sites.