Extra £1m for Plymouth shootings community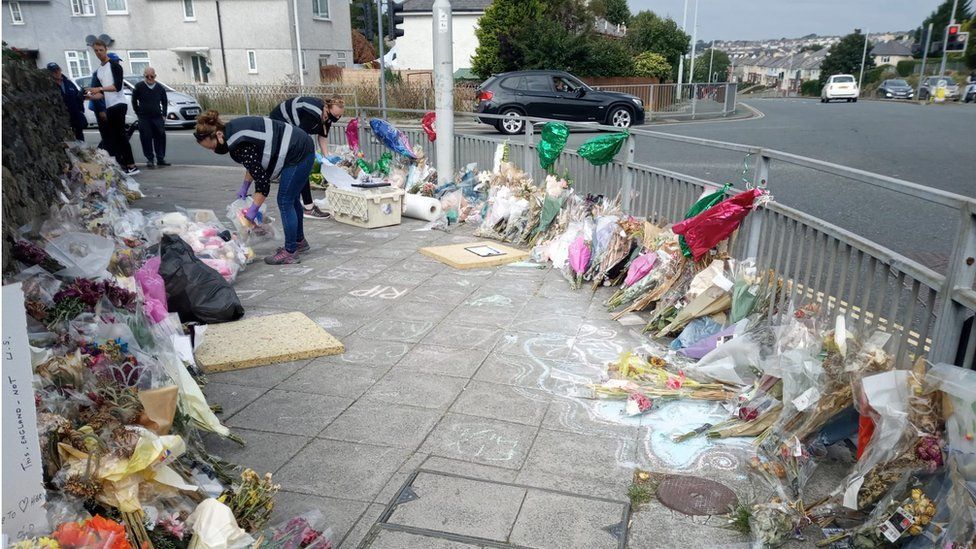 The government has allocated more than £1m to help a community recover after a fatal mass shooting last month.
"Sometimes I feel really silly having these feelings because I didn't see anyone die," he said.
"But I did see the forensic tents over the bodies, the pressure-washed pavements where the blood had been cleaned away, and I spoke to dozens and dozens of people who saw someone killed in front of them.
"I think I have a responsibility to take my own advice, so I have been getting some help as well to help me deal with what I have experienced and the stories that have been shared with me.
"I think this is not a sign of weakness. I think this is just an admission of being human."
Maxine Davison, 51, Stephen Washington, 59, Kate Shepherd, 66, Lee Martyn, 43 and three-year-old Sophie Martyn, were all killed by Jake Davison.
Mr Pollard called for long-term support which would be "laser focused on tackling the trauma caused by the mass shooting", including more educational psychologists and social workers in schools, more victim support workers, and more police on the streets to "reassure a community where there are still some people scared to leave their homes".
Home Office minister Kit Malthouse said: "I've been reassured to hear in our conversations throughout the past week that victims, survivors and witnesses have had access to all the support they need immediately."
And he said longer-term support "will be there when it is needed in the future".
Mr Malthouse described it as a "truly horrific and shocking incident". He paid tribute to those responding to the incident, and also said lessons would be learned.
The minister said more than £1m had been allocated to support the recovery effort in Keyham, and he outlined additional policing and mental health support among other programmes.
He added: "Over £800,000 will be invested in community safety and policing, to help restore confidence and reassure the public that Keyham is a safe place to live, work and go to school."
About £300,000 will be made available to the Devon Cornwall Police and Crime Commissioner to commission additional support services as required, he said.
Much of the money allocated will be targeted towards young people and children who "witnessed these horrendous acts of violence", he said.
This includes specialist emotional support and trauma counselling.
Mr Malthouse said an additional 130 psychological therapy spaces will be made available through local services, adding: "I'm sure we all commend the honourable member for his honesty this evening in showing the personal impact this incident has had on him.
"I'm sure members across the house will agree with him that asking for help is no sign of weakness," he said.
Mr Pollard tweeted after the debate that the government's offer was a "really good start" and the "hard work paid off".
He said he was "so proud" of how the Keyham community had "pulled together" after the shootings.
Nick Kelly, leader of Plymouth City Council, said he was "grateful" for the additional money, but "given the scale of the impact on the community and the levels of ongoing support that will be needed over the coming weeks, months and years, further funding from the government will be critical".
Devon and Cornwall's Police and Crime Commissioner, Alison Hernandez, said: "The effects of a traumatic event such as this can be felt long after it occurs.
"I am delighted that the government has listened to that expert advice and put in funding that assures me, as the individual responsible for victims services, that we will be able to offer professional, high quality and long-term support to those affected," she said.
Related Internet Links
The BBC is not responsible for the content of external sites.