Mark Ormrod: Triple-amputee starts 24-hour jiu-jitsu challenge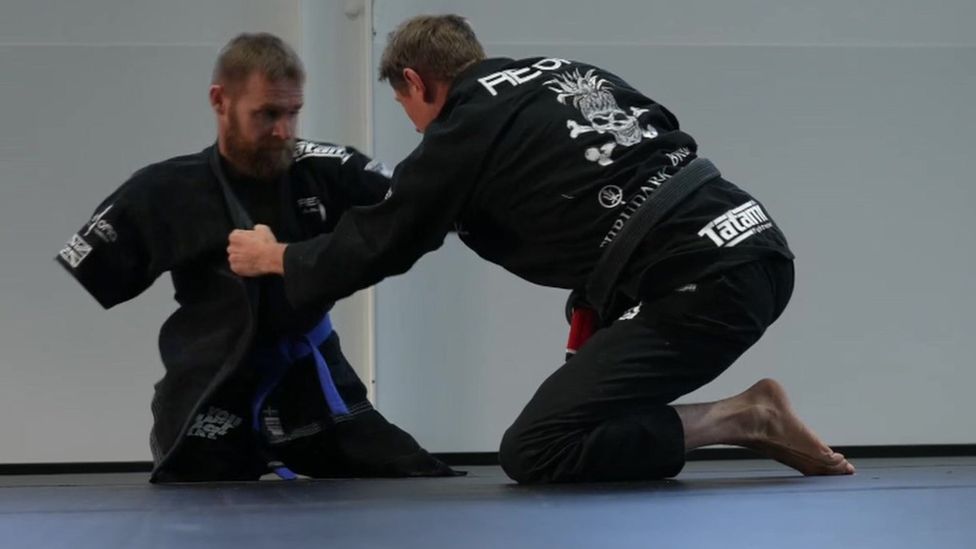 A triple-amputee is taking part in a 24-hour Brazilian jiu-jitsu challenge to raise money for charity.
The "24hr roll-a-thon" sees Mark Ormrod and about 60 gyms around the world take part in a simultaneous jiu-jitsu challenge.
Money raised will go to Reorg, which helps people from the armed forces and emergency services suffering from physical and psychological trauma.
Mr Ormrod, from Plymouth, has raised more than £500,000 for the charity.
Mr Ormrod lost both legs and his right arm when he stood on an improvised explosive device while on patrol in Afghanistan in 2007.
He said Reorg uses martial arts to help people suffering from physical and psychological trauma.
He said the charity has helped him by teaching him Brazilian jiu-jitsu.
"It may sound extreme when I say this, but it's absolutely true that it [the charity] is not just changing people's lives, I know several people whose lives it's saved.
"People that thought they had no way out, that there's nothing left for them to do, they felt worthless, and they found a purpose again, a mission, and something that gives them growth in their life.
"When you leave the military what you really miss is that camaraderie and that brotherhood, the jiu-jitsu community is the closest I've found that replicates that," he said.
Ben Mitchell, who served with Mr Ormrod in Afghanistan and is now a firefighter in London, said: "There are periods of your life where you are frustrated when you come out of the military and you've lost your way in life, you react to things in ways you wouldn't normally react.
"My wife, my children, I think they can see a massive change in what Brazilian jiu-jitsu has done for me," he said.
The "roll-a-thon" gets its name from "rolling", a term used in Brazilian jiu-jitsu which is the equivalent to "sparring" in boxing, Mr Ormrod said.
The challenge is expected to finish at 08:30 GMT on Friday.
Related Internet Links
The BBC is not responsible for the content of external sites.