Pilot parachuted from glider after he was unable to control a wing flap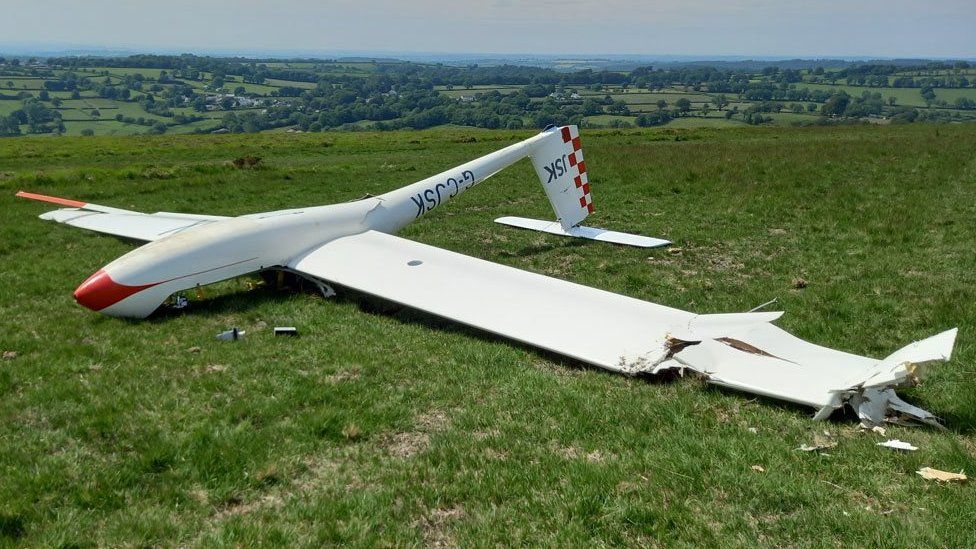 A pilot abandoned a glider in the sky after a flap on the wing stopped responding 4000ft (1219m) above Dartmoor, an investigation has found.
The 65 year-old pilot suffered minor injuries when he parachuted from the aircraft on 23 June.
The aircraft crash landed in an open area near Brentor airfield in Devon.
The pilot had taken off from the airfield, and had been flying for about 50 minutes when the right wing flap stopped responding about 4000ft (1219m) above Dartmoor, the report said.
He managed to fly back towards his starting point but "considered that he had insufficient control over the glider's flightpath to safely land" and so parachuted when over an open area.
The report found it was likely the connection to the aileron flap was not securely locked and became disconnected in flight "due to turbulence."
Control checks by the pilot prior to the flight had appeared to show the glider's flaps were able to move normally.
Testing by the British Gliding Association (BGA) found that it was possible for the connector equipment to pass checks when partially engaged, but when a small vertical load was applied the control connector had failed.
The BGA has issued safety information to owners of aircraft fitted with the same type of L'Hotellier connector, with guidance on the proper locking of the device.
Related Internet Links
The BBC is not responsible for the content of external sites.