16th Century books sell for £365,000 at Exeter auction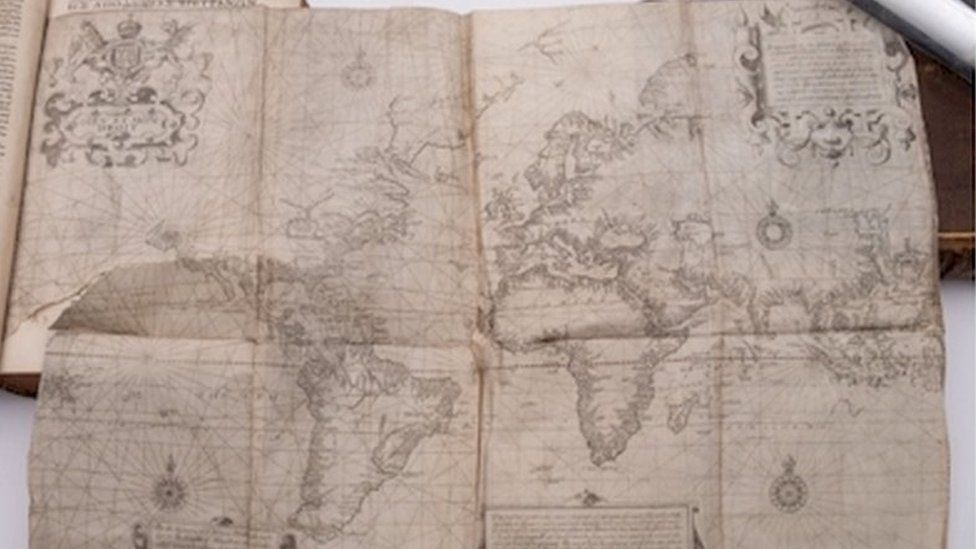 Two 16th Century books with a rare folding map of the world included have sold at an auction for £365,000.
The books, by English writer Richard Hakluyt, were only expected to sell for between £3,000 and £5,000.
However, the original 16" by 18" (40cms by 45cms) map of the world from 1599-1600 sparked global interest from antiquarian book collectors.
The auction house in Exeter said buyers were interested from "all corners of the globe".
A spokesman said: "Unusually the folding map of the world was present and although in a delicate state, it didn't deter prospective purchasers."
Normally when copies are sold, the map is missing.
Including a buyer's premium, the final price paid for the three rare volumes, bound in two books, was more than £450,000.
A dozen bidders fought for the books at the antiquarian book sale at the Bearnes, Hampton and Littlewood auction.
The books entitled The Principal Navigations, Voyages, Traffiques and Discoveries of the English Nation, made by Sea or Overland, to the remote and furthest distant quarters of the Earth, had been in the same family for many years and kept in a private library in Devon.
The identity of the buyer has not been made public.