Salcombe RNLI crew's gallantry awards for yacht rescue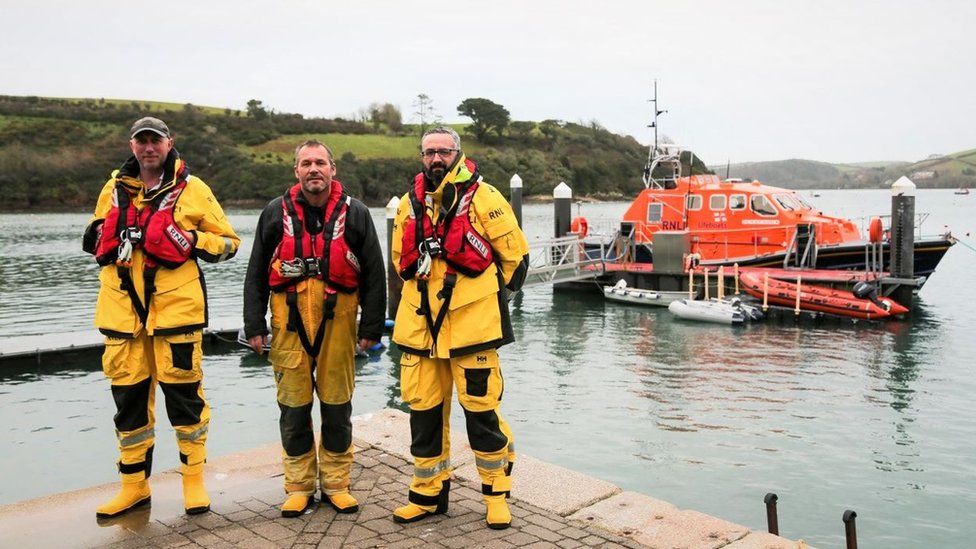 A Devon lifeboat crew is to be honoured after rescuing two people in gale-force winds, the RNLI has said.
The Salcombe lifeboat saved the pair after their yacht was grounded near Start Point on 21 December 2020.
Richard Clayton and Iain Dundas will get a bronze medal for gallantry, with coxswain Chris Winzar to receive a Thanks of the Institution on vellum.
The charity said the men "demonstrated their unstinting commitment" in extremely challenging conditions.
The lifeboat was called out at 04:05 GMT to help the 25ft (7.6m) long vessel after it got into difficulty in "extremely poor" conditions, "with south-westerly winds of 30 to 40 knots, large waves, an ebb tide and poor visibility", the charity said.
The stricken vessel was found aground in a "tight gully behind a tall outcrop of rocks, obscured from sight due to the pitch-black conditions and driving rain" at Nestley Point.
Mr Clayton and Mr Dundas used the lifeboat's smaller dinghy which was "incredibly risky in the severe conditions and on the limit of the boat's capabilities" to rescue the pair.
They were being awarded their medals "for their boat handling skill, tenacity, and bravery", the charity said.
Coxswain and mechanic Mr Winzar was to receive his Thanks of the Institution "for his professionalism, courage, and leadership under severe pressure", it added.
Salcombe RNLI operations manager Andrew Arthur said: "This rescue was carried out in extremely challenging conditions and our crew demonstrated their unstinting commitment, boat-handling skill, tenacity, leadership and decisiveness, as well as immense courage, bravery and selflessness, which ultimately saved the lives of two people."
They are due to be presented their awards at a ceremony in early 2022.
Related Internet Links
The BBC is not responsible for the content of external sites.