Olympic equine centre in Dorset attracts top trainer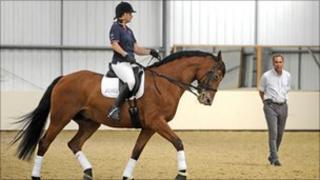 An equestrian centre in Dorset, chosen as a training centre for the 2012 Olympics, has attracted a leading international trainer.
Dutch dressage trainer Bert Rutten hosted a masterclass at the centre at Kingston Maurward College in Dorchester.
Paralympian Jo Pitt was among the riders who attended the session.
The centre has an outdoor sand and rubber arena and an international-size indoor arena with gel track surface.
'The best'
Aart Noordijk, head of equine at the college, said: "Having international trainers like Bert at [the] college helps to highlight the professional training we offer.
"I have worked with Bert many times and he trains people and horses up to Grand Prix level, demonstrating the high level of expertise required to perform at this level."
Mr Rutten, two-time Olympian rider, said: "It's hard to be the best.
"The horse makes the rider great, not the other way around."
Across the South West there are 60 training camp venues for the 2012 Olympic and Paralympic Games.
These include leisure centres and schools covering everything from archery to fencing, and triathlon to wrestling.
Nationally there are more than 600.
Gary Fooks, Team Dorset legacy manager, said: "Across Dorset we have the full range of sports.
"It means athletes can start preparing weeks, months or even years in the run-up to the games."