Boscombe's surf reef could cost council more money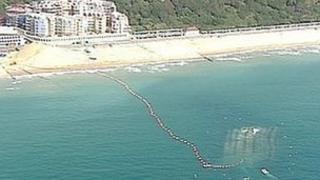 Bournemouth councillors have not ruled out spending more money on the artificial surf reef in Boscombe.
The £3m construction opened in November after a delay of more than a year and at nearly double the proposed cost.
In May, a Plymouth University report said the reef was "sub-standard" and only met four of its 11 objectives.
The council, which is withholding £150,000 from creator ASR Ltd, said it may look to other firms to carry out improvements.
The authority has also formed a cross-party group comprising of councillors, the Boscombe Spa Village Project board and surfing experts.
The aim is to develop a solution to the surf reef which has so far failed to meet performance targets.
'Minor element'
It will hold its first meeting in August and aims to report back to the council by its meeting in October.
Liberal Democrat MP Richard Smith thinks there is an argument that the reef should be left as it is.
He said: "Boscombe regeneration was not just about the surf reef, that was meant to be a minor element.
"Should we spend further money on what is after all a minority leisure activity?
"The bottom line is, it's probably not worth spending the additional money."
There has been a mixed response to the reef's success from surfers.
David Weight, chairman of Wessex Surf Club, originally came up with the idea of the reef.
It was created to improve surfing conditions using 55 sand-filled "geotextile bags" which are 225m (740ft) out to sea.
He is keen to be part of the working party process and will argue that councillors should be prepared to invest as much as it takes to fix the reef.
Mr Weight said: "It's probably a difficult time to accept that a little bit more money has to be spent.
"I suspect that it might need £250,000 so this is maybe part of the problem [for the council].
"If they're [the council] sticking with the [withheld] £150,000 how much can they do for that?
"Is it really going to make it [the reef] what it needs to be? I hope so but we have to work that out."