Dorset sea view chalet on sale for £300,000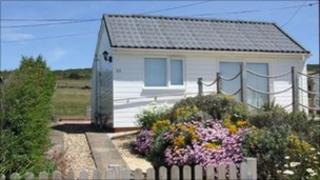 A chalet with spectacular sea views of the Dorset coastline has gone on the market for £300,000.
The single-shack beach chalet, which overlooks Chesil Beach and the World Heritage Jurassic Coast at West Bexington, was built in the 1930s.
The structure, which has no central heating, boasts three bedrooms, an open-plan kitchen and a dining room.
Brigit Lyons-Davis, from estate agents Symonds and Sampson, said: "£300,000 sounds a lot when you see it on paper."
She added: "Unusually the chalets have no restrictions on them.
"They can be used as a permanent residency, in fact quite a few of them are."
Ms Lyons-Davis denied the chalet, which has a dining room covering 524sq ft (48.68 sq m), was a "glorified shed".
She also said it had electric heating, mains water and drains and was "the most luxurious" in the row of 15, having recently been renovated.