Dorset £20m coastal erosion project on target for 2012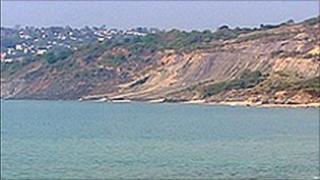 Work on a £20m project to safeguard about 140 properties in a Dorset town from falling into the sea is scheduled to start in spring 2012.
The Lyme Regis coastal erosion scheme aims to stop roads, public utilities, firms and homes in the east of the town from being destroyed in 50 years' time.
West Dorset District Council said part of the A3052, the main road into the town, is also at risk.
It said engineers have recommended building a 390m seawall.
A council spokesman said: "[The wall would be] designed to have minimum impact on the foreshore geology, together with piling, drainage and other work to strengthen the coastal slopes."
'Worst landslip'
The scheme includes "extensive landscaping to restore the natural habitat and reinstate the private gardens affected by the work".
Planning permission for the work was secured in April and councillors recently approved proposed funding arrangements to raise the £21,000,000 needed to pay for the design and construction.
A report put before a full council meeting recommended applying for government approval and Defra funding.
The study also said discussions with Dorset County Council about its contribution needed to be completed.
The district council is expected to set aside £600,000 towards the work.
West Dorset council leader Robert Gould said: "We are committed to providing long-term security for Lyme Regis and the people who live and work there."
In May 2008, about 400m (1,312ft) of cliff slipped between Lyme Regis and Charmouth, exposing an old landfill site.
Described as the "worst landslip for 100 years" in Dorset, it closed a beach.
The earth movement, the length of four football pitches, affected part of the 95-mile (153-km) Dorset and east Devon Jurassic Coast.