Report hints at Dorchester Prison closure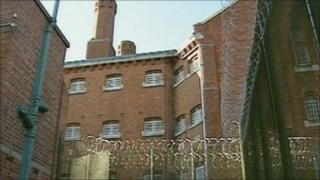 A confidential government report suggests Dorchester Prison may be shut and a new jail built in south Dorset.
The Ministry of Justice (MoJ) study, obtained by the BBC, said modernisation was urgently needed.
The leaked "Vision for Estate" report says "permanent closure of old and inefficient existing capacity" is "at the heart of this strategy".
An MoJ source told the BBC this was a reference to Dorchester Prison, which dates back to Victorian times.
The study also raises the possibility of the 200-year-old Dartmoor Prison and Victorian Exeter Prison being shut and a new jail being built in east Cornwall.
In the paper, which runs to 64 pages and is marked "PROTECT", the MoJ said it was working to provide "a fit-for-purpose prison estate".
The MoJ said in a statement that the report seen by the BBC was a draft document which did not represent the government's position.
However the MoJ source rejected this, claiming it was a "live" document which was being worked on.
The report adds that another prison could also be built in south Dorset, but does not give an exact location.
Dorchester mayor and Dorchester North councillor Leslie Phillips said: "In economic terms the prison is vital, the wardens shop and live in the town and spend their money.
"It is a big part of Dorchester, which is why I am finding it hard to believe they would consider closing it.
"There has been scaffolding around the prison for the past two years, but I can think of other prisons in more need of modernisation than Dorchester."
The MoJ said: "No decision has been made about prison closures.
"We have already said that, as part of the rehabilitation revolution, we will work towards providing a fit-for-purpose prison estate through building new prisons and closing inefficient and worn out places."