Boy cycles around Poole Bay in memory of friend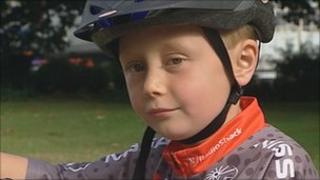 An eight-year-old boy has cycled 40 miles (64km) around Poole Bay in Dorset in memory of the friend who taught him to ride.
Taylor Dart, of Calvert in Buckinghamshire, started and finished the ride at his grandmother's home in Ferndown on Sunday.
His friend Taylan Rawlinson was just seven-years-old when he died from a brain tumour in August last year.
Taylor has already raised more than £1,500 towards brain tumour research.
'Training hard'
Taylor said: "He helped me ride my first bike without stabilisers and I just love biking.
"I've already raised £1,550 and I hope to raise £1,600."
Taylor's father, Phil Dart, said he completed the ride in three hours and 28 minutes.
He said that since Taylan died his son had been thinking about what he could do in his memory and decided to do a 40-mile bike ride around Poole Bay.
Mr Dart said: "He's organised it himself and he's set up his own justgiving page.
"He has been training very hard on his bike, he's been doing various training rides. He started off doing 26-mile rides and then a 35-mile ride.
"He's been eating lots of pasta and other carbohydrates to try and keep his energy levels up and has been very, very focused on preparing and keeping his bike in good shape.
"He's been doing all the usual things you'd expect him to be doing in the run-up to a big ride.
"He's only eight, he's thought about doing this all by himself - proud is not a big enough word."