Four heathland fires in Poole were 'arson'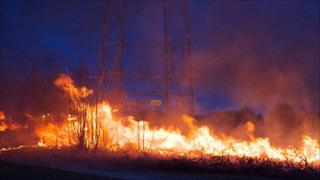 Four heathland fires off Bloxworth Road in the Wallisdown area of Poole were arson, according to the fire service.
Dorset Fire and Rescue were called to the scene, which affected 250 sq m of land, at 2121 BST on Sunday.
Police officers and the force helicopter was deployed to search the area while nearly 30 firefighters tackled the incident.
The blaze was brought under control just before 2300 BST. Investigations at the scene are continuing.
Jason Morgan from Poole was visiting friends who live close to the entrance of the heath when the fire started.
He said: "At first we thought a plane had crashed - I hadn't seen a fire this big, close-up before.
"We were really worried it would spread to the houses - it backed right up to people's gardens at one point, right under the nearby pylons.
"The whole thing was pretty horrible and I could hear animals screaming in amongst the fires."