Bournemouth has a new leader following a porn inquiry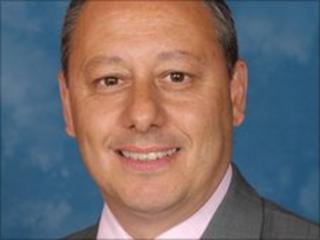 A new Bournemouth council leader has been announced after the previous leader resigned following an inquiry into pornographic images on his laptop.
Councillor Stephen MacLoughlin faces a public hearing next month over the images, although the council took no further action after its own inquiry.
Councillor Peter Charon was appointed leader of the ruling Conservative party on 9 July.
He was confirmed as council leader at a meeting on Monday.
'Uncertain times'
In accepting his leadership role, Mr Charon set out his budget strategy, stating: "We are in uncertain times. The current economic climate is challenging, and the council will need to find additional budget savings."
He also announced that the council cabinet will be made up of nine members rather than the previous 10, and a 5% reduction in special responsibility allowance, which is paid to all members of the cabinet.
He added that he hoped these two measures will save the council around £17,300 a year.
Mr Charon also gave an indication that the council will avoid a rise in council tax next year.
He said: "I cannot imagine that we would not want to take advantage of central government's proposed council tax freeze."
'Draw a line'
Mr MacLoughlin said he took the decision to step down to "draw a line" under recent events.
The material was discovered during a routine IT service in December 2008.
The decision to take no further action prompted accusations of double standards, after about 20 employees were sent home "on leave" in March 2009 for sending an explicit joke e-mail about Viagra.
At the time, the council said the procedure for dealing with a council member was different to that for a staff member.
The council said the material accessed on Mr MacLoughlin's laptop contravened its internet policy, but he had cooperated with the internal inquiry and agreed to comply with the council's internet policy in future.
In his resignation statement, Mr McLaughlin said he hoped his resignation would help repair his party's reputation.