Dilapidated Dorset nursery to be replaced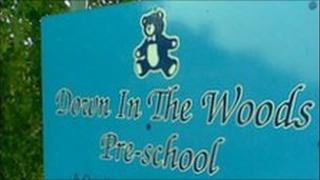 A dilapidated Dorset nursery is to be replaced with a new building after plans were approved by councillors.
The new wooden structure and play areas will replace the Merley Youth Club building in Wimborne.
Down in the Woods pre-school and nursery, which provides day-care at the facility, will operate from the new building after the summer holidays.
Work is already under way at the site with the new building expected to be completed by 15 September.
'Successful outcome'
The Down in the Woods pre-school and nursery has been given a one-year licence during which the longer term use of the site will go out to tender.
Anne Newton, from Borough of Poole Council, said: "Giving children the best possible start in life is a key priority in Poole and we are delighted to have been able to provide this much-needed childcare provision for the Merley area.
"We are sure young children and their families will be equally pleased to see and use the replacement building and the fantastic facilities it has to offer them.
"We would like to offer our sincere thanks to everyone who has worked with the council to achieve this successful outcome."
The plans also include a new area of green space to compensate for the loss of land associated with the new building and car and bicycle parking areas.