Nurse guilty of murdering parents at Bournemouth home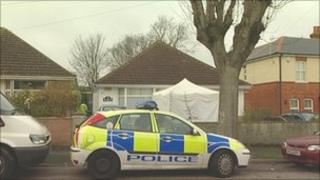 A nurse who stabbed her parents before hitting them over the head with an iron has been found guilty of their murders.
Arthur Toop, 82, and his wife Joan, 74, were discovered dead at their Uplands Road bungalow in Charminster, Bournemouth, on 28 November last year.
Susan Toop, 54, who lived with her parents, said she was putting them "out of their misery".
Toop had admitted manslaughter on grounds of diminished responsibility but she was convicted of both murders.
Toop was remanded in custody at Winchester Crown Court to be sentenced at the Royal Courts of Justice in London on 30 September.
'Taken drugs'
Timothy Mousley QC, prosecuting, told the court the parents "had a good quality of life" and were not "miserable".
He added that the relationship between Toop and her "domineering" mother had deteriorated in the weeks before the defendant killed her parents.
Mr Toop died from multiple blunt force injuries which fractured his skull.
Mr Mousley said that Toop might have inflicted extra injuries to her father because a pacemaker he had fitted for a heart condition may have led his heart to continue beating, making her believe he was still alive.
Mrs Toop suffered multiple blunt force injuries, also probably caused by the ornamental flat iron, and 28 knife wounds.
Mr Mousley said: "Despite what the defendant had said to police about wanting to put her parents out of their misery, her parents seemed to have lived a life they enjoyed and weren't particularly miserable about it at all."
Mr Mousley said Toop told police in an interview that she had taken drugs prescribed to her for insomnia to give her courage to kill her parents.
Toop, who worked for the NHS for 30 years, crushed up some of the Zolpidem tablets, which have side effects of confusion, drowsiness and dizziness, and placed them in her father's sandwich and mother's coffee before swallowing more than 60 herself, the court heard.
Jurors were also told that Toop was overheard by a nurse at a secure hospital where she has been detained to say: "It wasn't meant to happen like this.
"I just wanted us all to go together, we were all supposed to go together."