Boscombe Pier to get memorial bench for dead surfers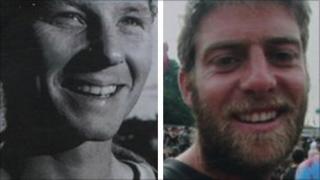 A memorial bench will be placed on Boscombe Pier to remember four local surfers who died between 2005 and 2009.
The bench, which will overlook the artificial surf reef in Bournemouth, will include four individual plaques, one for each of the men.
They were James Foy, 29, from Bournemouth, Pete Happe, 31, and Lewis Dunton, 34, both from Southbourne, and Simon Smith, 38, from Wareham.
Members of the surfing community raised the money for the bench.
Although the surfers did not lose their lives on the waves, friend and fellow surfer Gary Knights, who organised the fundraising, wanted there to be a lasting legacy in Boscombe where the men spent a lot of their time.
He said: "It's so important for us to remember such amazing people and friends. It's also really nice to get to know their families."
He also paid tribute to three of the surfers.
Mr Knights said of Mr Foy, who fell down a flight of stairs and died of his head injuries in 2005: "His smile is missed in the surf, especially in an easterly wind where he could normally be found dominating the left hand waves that would be peeling off the pier."
He described Mr Smith, who died suddenly in 2006, as "a friendly giant who would help anyone who needed it".
And he said Mr Happe, who died in a motorbike accident in 2008, "was a really friendly person with a wicked sense of humour".
Mr Dunton died of carbon monoxide poisoning in 2005 while on a surfing trip to Morocco.
His father Joe Dunton said: "He always surfed and he always travelled. That was his life and unfortunately that was his passing. We miss him terribly."
Councillor Anne Filer, from Bournemouth Borough Council, which is installing the bench, said: "[It] will provide a poignant place for friends of the young surfers who died to remember them, and for visitors to rest awhile and enjoy the sea air.
"It is heart-warming to see the surfing community come together to raise the funds to make this happen."